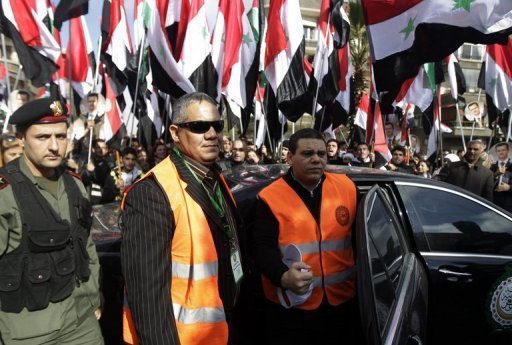 Last updated: 24 January, 2012
Gulf states pull observers out of Syria
Syria agreed on Tuesday to extend a widely criticised Arab League observer mission for a second month, hours after launching an angry tirade against the bloc's efforts to mediate in the crisis.
League officials had warned that the monitors, already depleted by the withdrawal of the six oil-rich Gulf states from the mission, would be confined to base from Wednesday if Syria's agreement was not forthcoming.
"Foreign Minister Walid Muallem sent a letter tonight to the secretary general of the Arab League (Nabil al-Arabi) informing him of the Syrian government's agreement to extend the observer mission for one month, from January 24 until February 23, 2012," said a statement carried by the official SANA news agency.
Announcement of the letter came after Muallem delivered a stinging attack on the League after its weekend call for President Bashar al-Assad to hand power to his deputy and clear the way for a unity government within two months.
"Enough of the Arab solutions from now," Muallem said, accusing the Arabs of "plotting" to internationalise the crisis and taking decisions while "knowing that they will be rejected" by Damascus.
"We do not want Arab solutions," he told a televised news conference.
"We said that two days ago when we refused the initiative and when the ministers' council decided to turn to the (UN) Security Council," said Muallem. "We categorically refused (this proposal)."
Muallem said Syria had no choice but to confront the armed groups that the government holds responsible for the violence which the UN says has killed more than 5,400 people since March.
"It is the duty of the Syrian government to take the necessary measures to address the problem of those armed elements who are wreaking havoc throughout Syria," he said, stressing Russia would never accept foreign intervention.
"No one can doubt the strength of the Russian-Syrian relationship," based on their history and the interests of both peoples, he said.
Western governments have been capitalising on the Arab League's tough new stance to embark on a fresh drive for action by the UN Security Council after previous efforts were blocked by Beijing and Moscow.
European and Arab nations want a vote next week on a resolution condemning Syria's crackdown on protests and hinting at sanctions, diplomats said.
Britain, France, Germany and Arab nations are working on the resolution which could face Russian opposition because of a call on all UN member states to follow Arab League sanctions against Assad's regime.
Diplomats from several Security Council and Arab nations said there could a vote as early as Monday or Tuesday next week.
"I would not exclude it," said one Western diplomat. "It is what we are aiming for," an envoy from an Arab nation told AFP.
A first draft of the new resolution, obtained by AFP, notes Arab League sanctions ordered against Syria and "encourages all states to adopt similar steps and fully to cooperate with the League of Arab States in the implementation of its measures."
Moscow, a Cold War ally of Damascus which retains a naval base at Tartus on Syria's Mediterranean coast, has spoken out strongly against sanctions.
A Western diplomat stressed that there would be talks with the Russians and indicated there could be changes to the resolution. "There is a need for a united Security Council voice on Syria," the diplomat told AFP.
Russia and China vetoed a previous European attempt in October to get a resolution passed condemning Assad for the violence.
The United Nations has received a letter from the Arab League chief seeking a meeting with UN Secretary General Ban Ki-moon, a UN spokesman said.
The six-nation Gulf Cooperation Council said it had decided "to follow Saudi Arabia's decision to pull out its observers from the Arab League mission in Syria" and called on "members of the UN Security Council… to take all needed measures to press Syria to implement the Arab League decisions."
Syria signed up to an Arab League peace plan last year that calls for the withdrawal of troops from population centres, the protection of civilians, the release of detainees and the opening of negotiations with the opposition.
But critics they say there has little tangible progress in compliance with the blueprint.
Activists who accuse Assad's regime of killing peaceful protesters said security forces stormed the central city of Hama on Tuesday as they pressed their bloody crackdown.
"Syrian troops are storming the city from its southern and western entrances," Saleh al-Hamwi, spokesman of the General Revolution Commission, told AFP.
Tanks were being deployed around Baba Qibli neighbourhood, where massive protests have been staged and where mutinous soldiers of the Free Syrian Army have been hiding out, he added.
The London-based Syrian Observatory for Human Rights said in a statement received by AFP in Nicosia that two civilians were killed in Hama province on Tuesday and one in Homs, Syria's third-largest city.