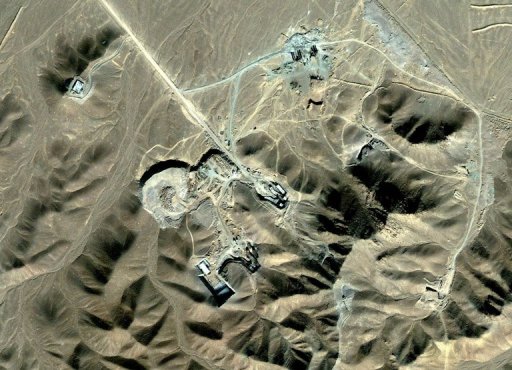 Last updated: 17 September, 2012
Iran atomic chief says explosives cut power at nuclear facility
Iran's nuclear chief said Monday that "explosives" were used last month in an attack aimed at cutting the power supply to an underground enrichment facility but that the plant suffered no damage.
"On… 17th August 2012, the electric power lines from the city of Qom to the Fordo complex… were cut using explosives," Fereydoon Abbasi Davani told the 155-nation International Atomic Energy Agency gathering.
Abbasi Davani did not accuse anyone, but in the past Iran has pointed the finger at Israel and the United States for assassinations of its nuclear scientists and computer viruses targeting its atomic facilities.
Fordo is a key site in Iran's nuclear programme, dug deep into a mountain to protect it against air strikes and enriching uranium to purities of 20 percent, a short step from the 90 percent needed for a nuclear weapon.
Abbasi Davani said in his speech, however that because Fordo had a back-up power supply and diesel generators, "we did not witness any kind of damages at Fordo," he told a later news conference through an interpreter.
He said that an earlier sabotage attempt had also been directed at the power supply at another enrichment facility, Natanz, but he did not say when this had taken place.
He also said that a "very small amount of explosives" had been detected in 200 pieces of vacuum equipment used in the enrichment process which it bought three or four years ago.
Abbasi Davani also said he had repeated Monday a request to IAEA chief Yukiya Amano for the agency to provide less detail in its regular quarterly reports on Iran, saying they could fall into the hands of "terrorists."
"The authorities of the agency and the director general personally are too honest and sincere in providing their reports," he said, adding that the data could be useful for "those who want to conduct an act of sabotage."
He also said he had asked for the reports, which contain detailed information on Iran's nuclear facilities and are available on the IAEA's website, not to be published on the Internet.
Abbasi Davani also said however that sabotage attempts against Iran's nuclear activities have failed and would continue to fail.
"The plotters of attacks against Iranian nuclear facilities have realised, through the IAEA's published reports, that they have not gained any success in this regard," he said in his speech.
Iran says its nuclear programme is peaceful and that uranium enrichment is for power generation and medical purposes.
Many in the international community suspect otherwise and the UN Security Council has passed six resolutions calling for a suspension of enrichment. Israel and the US have also refused to rule out military action.
Abbasi Davani also blamed the IAEA for the failure of a string of meetings this year aimed at clarifying the agency's suspicions that prior to 2003, and possibly since, Iran had a structured programme of activities it said were "relevant to the development of a nuclear explosive device."
Higher-level diplomatic meetings between Iran and the P5+1 — Britain, China, France, Russia, the United States and Germany — took place in Istanbul, Baghdad and Moscow earlier this year but were downgraded to working-group level.
EU foreign policy chief Catherine Ashton, the P5+1 chief negotiator, will however meet Iranian counterpart Saeed Jalili in Istanbul on Tuesday for their first face-to-face talks since June, her office said on Monday.