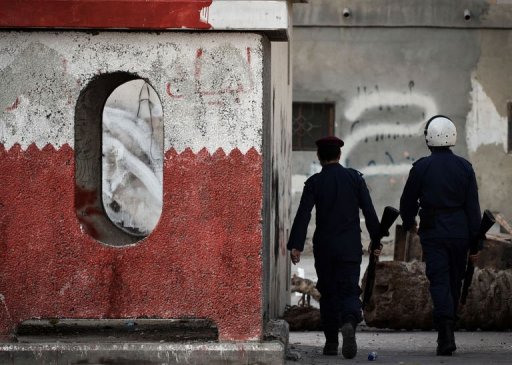 Last updated: 8 January, 2013
Bahraini court verdicts "mind-boggling," says Human Rights Watch
The United Nations and the European Union on Tuesday slammed a decision by Bahrain's highest appeals court to uphold lengthy prison terms against opposition activists.
UN leader Ban Ki-moon "deeply regrets" the decision and called on Bahrain to carry out promised reforms, his spokesman said. The European Union said the activists should receive amnesties.
"The secretary general deeply regrets the decision of Bahrain's Court of Cassation on January 7 to uphold the harsh sentences, including life imprisonment" against the activists, said Ban's spokesman Martin Nesirky.
"He reiterates his firm belief that the only way to promote peace, stability, justice and prosperity in Bahrain is through a national dialogue which addresses the legitimate aspirations of all Bahrainis," the spokesman added.
"The secretary general also calls on the government of Bahrain to follow through on its recently reiterated commitment to judicial reform."
Bahrain's Court of Cassation on Monday upheld jail terms ordered by a lower court on 13 activists found guilty of plotting to overthrow the monarchy. It also upheld punishments against seven others who are on the run.
Seven defendants are serving life terms, including Abdulhadi Khawaja, who last year staged a lengthy hunger strike against his imprisonment.
The activists took part in anti-government protests which have shaken the Gulf state since February 2011 and which the authorities say are being fuelled by Shiite Iran.
They were convicted by a military tribunal on charges that included "setting up terror groups" to topple the government.
Bahrain's actions have made its Western allies increasingly uncomfortable.
"The EU has repeatedly asked the Bahraini authorities to consider an amnesty for all those arrested last year and tried on charges relating to the expression of their political opinion," said a spokesman for EU foreign policy chief Catherine Ashton.
Ashton's spokesman Michael Mann said the European Union "fully respects the independence of the Bahraini judiciary" but "remains concerned about the lack of advancement of national reconciliation."
"All sides should engage in a peaceful, inclusive and constructive dialogue, abstaining from all forms of violence and intimidation," he added.
Human Rights Watch deputy Middle East director Joe Stork said Bahrain's highest court "has proven its inability to protect the most basic rights guaranteed in Bahrain's constitution and the international treaties it has signed."
"The mind-boggling verdicts in these cases did not mention a single recognisable criminal offence, instead pointing to speeches the defendants made, meetings they attended, and their calls for peaceful street protests in February and March 2011," he said in a statement.
The rights group said its own investigation into the cases found that the evidence consisted of public statements "advocating reforms to curtail the power of the ruling Al-Khalifa family and confessions that appeared to have been coerced while the defendants were in incommunicado detention."
The rulings have also been condemned by the main Shiite opposition bloc, Al-Wefaq, and rights watchdog Amnesty International. France "regretted" the verdicts and Britain said it was "dismayed".