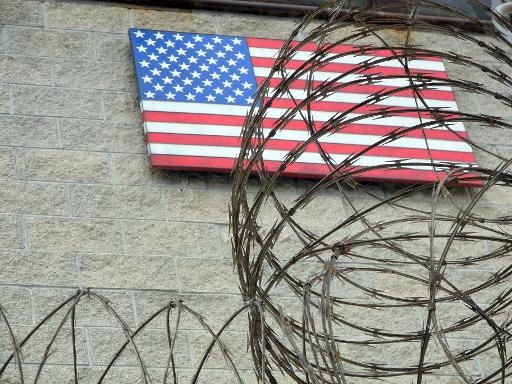 Last updated: 20 March, 2014
Guantanamo detainee from Yemen pleads to be sent home
A Yemeni national who has been imprisoned at Guantanamo for 12 years on Thursday tried to convince a US review panel he no longer poses a threat and should be sent home.
With a thick beard and gray prison garb, 34-year-old Ali Ahmed Mohammed al-Rahizi was presented to the panel reviewing his case as "possibly having served as a guard" for Al-Qaeda leader Osama bin Laden, mastermind of the 9/11 attacks.
The hearing, retransmitted for public viewing to a room in the Pentagon, marked only the third time a Guantanamo inmate has appeared before the Periodic Review Board.
This functions much like a parole board, although most of the prison's 154 "war on terror" inmates have never been charged.
The boards were created in 2011 as part of President Barack Obama's efforts to make good on a pledge six years ago to close the prison at a US naval base on the southeastern tip of Cuba.
So far, 75 inmates have been declared releasable but the process of repatriating them or finding a third country to take them has been slow.
Uruguay stepped forward on Thursday and said it was prepared to take five of the Guantanamo prisoners and host them for two years.
The PRB is made up of six experts from the Defense Department, Justice, Homeland Security, the State Department, national intelligence, and the joint military task force that runs the facility.
On January 9, it recommended the repatriation of a Yemeni, Mahmoud al-Mujahid, who was deemed no longer a danger to US national security.
Last week, however, it gave a thumbs down to the repatriation of another Yemeni, Abdel Malik Wahab al Rahabi, who also was alleged to have been a bin Laden bodyguard.
The panel said it had doubts about Rahabi's truthfulness in an interview a month and a half earlier, and confirmed his indefinite detention pending a follow-up review in six months.
The panel will give its verdict in Rahizi's case in 30 days. Captured in December 2001 on the Afghan-Pakistani border, Rahizi was transferred to Guantanamo January 11, 2002.
The 20-minute open portion of the hearing was held in the presence of two members from the Yemen embassy, but al-Rahizi has no civilian lawyer.
His military lawyer said the detainee "is eager to demonstrate to this board in the most straight forward way that he is a peaceful man.
"He's ready to live out the rest of his days as a peaceful man, a family man and an entrepreneur and no longer should be considered a continued significant threat to the United States of America."