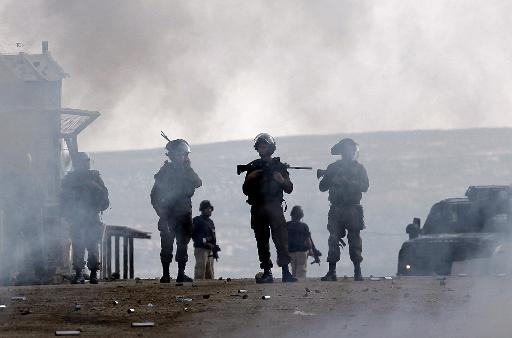 Last updated: 1 December, 2014
Palestinian woman shot after stabbing Israeli, police say
The Israeli army shot and wounded a Palestinian woman on Monday after she stabbed an Israeli civilian near a Jewish settlement bloc in the southern West Bank, the military said.
A Palestinian woman stabbed an Israeli civilian in a Jewish settlement bloc in the southern West Bank on Monday and was then shot and wounded by the Israeli army, the military said.
The attack was the first by a Palestinian woman in a wave of unrest in Israel and the occupied territories, and comes as tensions run high particularly in Jerusalem and nearby areas of the West Bank.
The civilian suffered minor injuries in the stabbing near a major crossroads in the Gush Etzion settlement bloc south of Bethlehem, an army statement said.
"Security forces on site overpowered the suspect and transferred her for further medical assistance," it said.
Police had initially said the stabbing victim was a soldier. They said the attacker was shot.
A spokeswoman for the Jerusalem hospital where the woman was taken said she was in a serious condition.
The incident came after months of rising tensions marked by a series of deadly attacks in Jerusalem and deadly stabbing incidents in Tel Aviv and the Etzion settlement bloc.
In the bloodiest attack, two Palestinians armed with a gun and meat cleavers killed four worshippers and a policeman at a Jerusalem synagogue on November 18, before being shot dead by police.
A week earlier, a Palestinian stabbed to death an Israeli woman in Gush Etzion, hours after a Palestinian teenager in Tel Aviv stabbed a soldier who later died of his wounds.
In Jerusalem, two deliberate hit-and-run attacks by Palestinian drivers killed a total of four people. Both attackers were shot dead at the scene by police.
In a bid to deter would-be attackers, Israel has pledged to demolish the family homes of anyone involved in anti-Israeli violence. So far, just one house has been demolished.
Prime Minister Benjamin Netanyahu has accused the Palestinian leadership of inciting the violence, but Palestinians blame Israel over moves to expand the settler presence in occupied east Jerusalem, as well as tensions at the flashpoint Al-Aqsa mosque compound.
Known to Jews as the Temple Mount, the plaza has been the focus of the heightened tension with Palestinian Muslims reacting strongly to what they perceive as Jewish attempts to take it over.