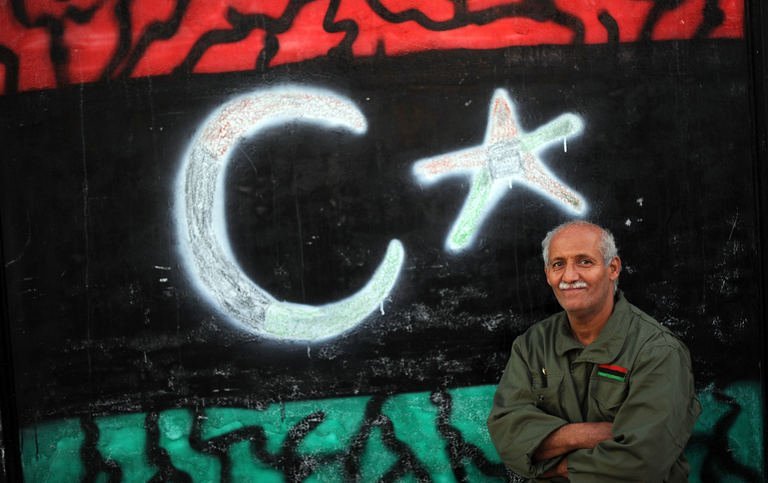 Last updated: 17 May, 2011
Kadhafi arrest warrant sought despite truce offer
The International Criminal Court's chief prosecutor applied for a warrant for Moamer Kadhafi's arrest for crimes against humanity, a day after the Libyan strongman's regime offered a truce in return for a halt to NATO-led air strikes.
In Libya's capital, two explosions were heard overnight Tuesday in the Bab Al-Aziziya area of Tripoli where strongman Moamer Kadhafi's residence is located, an AFP journalist reported.
A column of white smoke could be seen rising from the area after two explosions at about 1:30 am (1130 GMT Monday) and ambulance sirens could be heard.
NATO-led aircraft meanwhile launched fresh raids on an outlying suburb of the capital Tripoli, destroying a radar base, the state news agency JANA and residents said.
ICC chief prosecutor Luis Moreno-Ocampo said warrants were also sought for one of Kadhafi's sons, Seif al-Islam, and intelligence head Abdullah Senussi for crimes against humanity.
"Today, the office of the prosecutor requested the International Criminal Court arrest warrants," Moreno-Ocampo told a news conference in The Hague, where the court is based.
The Argentine prosecutor said there was evidence "that Moamer Kadhafi personally ordered attacks on innocent Libyan civilians".
A panel of ICC judges will now decide whether to accept or reject the prosecutor's application.
"NATO doubtless will appreciate the ICC investigation and indictment of top Libyan leaders, including Gadhafi," said David Scheffer, an ex-US ambassador-at-large for war crimes, who teaches international law at Northwestern University.
And Scheffer argued that the move might increase pressure on Gadhafi to think about finding refuge in a country that has not agreed to ICC jurisdiction.
Protests against Kadhafi's four-decade rule began on February 15 and Moreno-Ocampo said thousands of people had now been killed in the violence and around 750,000 people forced to flee.
British Foreign Secretary William Hague called on the international community to "fully support" the ICC.
"I welcome this announcement. The human rights situation in western Libya and the behaviour of the Kadhafi regime remains of grave concern," Hague said.
The rebels too hailed the move by the ICC but said that Kadhafi ought to be tried in Libya first.
"The National Transitional Council welcomes the decision of chief prosecutor of the International Criminal Court, Luis Moreno-Ocampo, to request an arrest warrant," the rebel administration's vice president, Abdel Hafez Ghoga, said.
"We would like him to be tried in Libya first before being put on trial in an international court," he added.
Italian Foreign Minister Franco Frattini said the days of Kadhafi's regime were "numbered" and that some Libyan officials were looking for a way for their leader to go into exile.
Russia said it would hold talks on Tuesday with envoys of the Libyan leader before having a separate meeting with rebel representatives at a later date.
"We have agreed Moscow meetings with representatives of both Tripoli and Benghazi," the ITAR-TASS news agency quoted Foreign Minister Sergei Lavrov as saying.
Russia has refused to accept the rebels as a legitimate power in Libya and still has formal ties with the Kadhafi regime.
On Sunday, Kadhafi's prime minister Baghdadi Mahmudi offered a truce to UN special envoy, Abdul-Ilah al-Khatib, in return for an immediate NATO ceasefire.
Mahmudi said after meeting Khatib that Libya wants "an immediate ceasefire to coincide with a stop to the NATO bombardment and the acceptance of international observers," the official Libyan news agency JANA reported.
Britain's chief of the defence staff, General David Richards, told the Sunday Telegraph newspaper that more military action was needed against the Libyan strongman.
"The vice is closing on Kadhafi, but we need to increase the pressure further through more intense military action," he said.
On Monday, NATO carried out strikes at a radar station in an outlying suburb of Tripoli, while JANA quoted a military source as saying that "civilian and military sites" had been targeted in Tajura east of the capital causing "human and material losses."
Three loud explosions shook the Bab al-Aziziya neighbourhood of Tripoli on Monday night, the area where Libyan strongman Moamer Kadhafi lives, an AFP correspondent reported.
The blasts rattled a hotel near the city centre where the foreign press in Tripoli is housed and were heard at 8:00 pm (1800 GMT).
NATO warships thwarted a bid by Moamer Kadhafi's forces to use small boats loaded with improvised explosive devices to threaten aid ships heading to the port city of Misrata, the alliance said.
It was the third time in nearly three weeks that NATO encountered Kadhafi forces off the coast, after catching them laying sea mines in Misrata's harbour on April 29 and beating back a boat attack on the port last week, NATO said.
A NATO bomb disposal team discovered around one tonne of explosives and two human mannequins inside a boat abandoned by the loyalist force. The explosives were destroyed by an allied warship using small arms fire.
"This is the first evidence of an attempt to use an improvised explosive device with decoy human mannequins to threaten commercial shipping and humanitarian aid in the area of Misrata," NATO said in a statement.