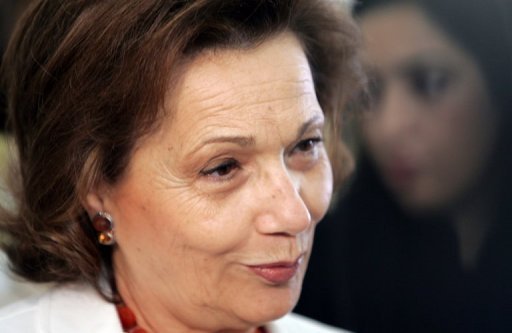 Last updated: 17 May, 2011
Wife released as Mubarak pleads for amnesty
Ousted president Hosni Mubarak's wife was released on Tuesday after handing over her assets to the Egyptian state, as her husband pledged to do the same in a bid to secure an amnesty.
Suzanne Mubarak had been held on corruption charges in a hospital of the Red Sea resort of Sharm el-Sheikh, along with her husband, who is also being investigated for allegedly ordering the shooting of anti-regime protesters.
The justice ministry's Illicit Gains Authority, which ordered Mrs Mubarak's detention on Friday, "has decided to release her after she handed over to the state money held in two bank accounts in Egypt, amounting to 24 million pounds," (around $4 million/2.8 million euros), an official statement said.
Assem al-Gohari, who heads the illicit gains department, said Mrs Mubarak had agreed to disclose the details of all her accounts, in Egypt and abroad.
He said the investigation into her alleged illegal acquisition of wealth was ongoing and that after relinquishing her assets, "her release is a normal legal procedure which would apply to anyone" in the same situation.
On Monday, the former first lady gave Gohari three powers of attorney authorising him to withdraw the cash from accounts in two banks and to sell a luxury villa she owns in Cairo.
Meanwhile, Mubarak, 83, is said to be preparing to hand over his assets and apologise to the Egyptian people in return for an amnesty from the military rulers who took power when he was overthrown on February 11.
The former president is said to be drafting a letter which will be broadcast on Egyptian and Arabic channels "apologising on behalf of himself and his family for any offence caused to the people," independent daily Al-Shorouk said.
He is also to apologise "for any acts which may have stemmed from false information passed on to him by his advisers," Al-Shorouk said, citing Egyptian and Arab officials.
Mubarak and his wife are in hospital after both reportedly suffered heart attacks during questioning in a graft probe.
"The president's letter and his relinquishing of assets are aimed at getting the (ruling) Supreme Council of the Armed Forces to look into an amnesty," the newspaper report said.
A military source told the paper that "many parties, some Egyptian and some Arab, have been mediating on this matter, to take place within an acceptable legal framework."
In the letter, Mubarak will argue that he "was once a fighting soldier in the armed forces, defending the nation with no ambition to become president, but tried to carry the responsibility and the burden of the position."
He will say that his wife Suzanne "worked on charitable projects in a bid to serve the Egyptian people."
The former president is also being questioned about allegations that he ordered the shooting of protesters during the uprising that toppled him in February.
Without waiting for confirmation, the youth movements that launched the January uprising against Mubarak have mobilised online against any pardon for the former strongman.
The Coalition of the Youth of the Revolution posted a petition calling for new protests if Mubarak is not put on trial.
The April 6 Movement, meanwhile, has opted for irony. It posted on Facebook a pastiche of Mubarak's letter, part of which reads: "If, over the past thirty years, I've disregarded you and made your life hell, I herewith offer my apologies to the Egyptian people."
Mubarak has been in custody at the same Sharm el-Sheikh hospital as his wife since April 13 when he too reportedly suffered a heart attack during questioning.
Plans to move him to a prison hospital have been announced several times but never implemented, and preparations for Mrs Mubarak's move to prison were underway before she suffered heart problems.
Al-Shorouk said the amnesty request would extend to the Mubarak sons, Alaa and Gamal, who are being held in Cairo's Tora prison on fraud charges, but sources told the paper it was unlikely it would be granted to the brothers.
Also being held in Tora prison are dozens of officials and businessmen associated with the former regime, in a facility which housed political dissidents during the Mubarak era.
The Mubaraks' fall from grace came on February 11, after 18 straight days of nationwide protests against the president's three-decade rule.
The half-Welsh Suzanne was seen as the driving force behind plans to have her son Gamal take over the presidency from his father, a highly unpopular prospect in Egypt that sparked repeated angry protests.
Mubarak, his wife, his two sons and their wives were banned from travel and their assets ordered frozen shortly after the strongman was overthrown.