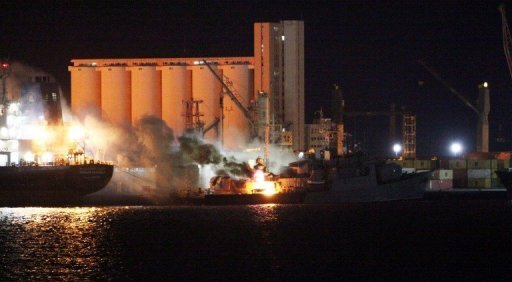 Last updated: 20 May, 2011
Obama says Kadhafi will go or be forced out
Libya's Moamer Kadhafi will "inevitably" leave or be forced from power, US President Barack Obama said as NATO declared it had significantly degraded the strongman's war machine.
The comments came as NATO aircraft overnight hit eight warships of Kadhafi's forces in the ports of Tripoli, Al Khums and Sirte, dealing a further blow to the regime's capabilities.
UN chief Ban Ki-moon told AFP, meanwhile, that attempts to secure a ceasefire in Libya have failed and the humanitarian crisis is worsening.
Rebels fighting to overthrow Kadhafi also said they were increasingly concerned about the humanitarian situation in the Nafusa mountains even after gaining control of the western lifeline city of Misrata.
"Time is working against Kadhafi," Obama said in a major speech in response to the Arab uprisings that have also toppled veteran leaders in Tunisia and Egypt, and are gripping Syria and Yemen.
"He does not have control over his country. The opposition has organised a legitimate and credible interim council," Obama said of the rebels' National Transitional Council based in their eastern stronghold of Benghazi.
"And when Kadhafi inevitably leaves or is forced from power, decades of provocation will come to an end, and the transition to a democratic Libya can proceed," said the US president.
His remarks were welcomed by the vice-chairman of the rebel council, Abdul Hafiz Ghoga.
"We at the NTC have been following the speech that has just been given by President Obama and we welcome the statements made regarding the legitimacy of the body of the National Transitional Council," Ghoga said in Benghazi.
"We look forward to further support from the United States and the international community to help us further develop our democratic aspirations and for the development of our people."
NATO Secretary General Anders Fogh Rasmussen said earlier that Kadhafi's forces had been severely hit, which would lead to the eventual end of his rule.
"We have significantly degraded Kadhafi's war machine and now we see the results — the opposition has gained ground," said Rasmussen, adding "the Kadhafi regime is more and more isolated every day."
"All NATO's targets are military in nature and are directly linked to the Kadhafi regime's systematic attacks on the Libyan people," said Rear-Admiral Russell Harding, Deputy Commander Operation Unified Protector in a statement.
"Given the escalating use of naval assets, NATO had no choice but to take decisive action to protect the civilian population of Libya and NATO forces at sea," he further added.
US Secretary of State Hillary Clinton earlier appeared to confirm reports that Kadhafi's wife and daughter had fled across the border to Tunisia "in the last two days," in an interview with CBS News.
Libyan government spokesman Mussa Ibrahim however denied the reports, insisting that Kadhafi's wife, Sofia "is fine, in good health and she is in Tripoli."
African Union president Jean Ping meanwhile said that the United Nations resolution authorising the use of force to protect civilians in war-torn Libya has been "violated."
The Libya UN Resolution 1973 that the Security Council passed in March has "virtually already been violated in spirit and in letter," Ping said in comments broadcast on public television in Equatorial Guinea on Thursday.
Kadhafi's position has become more precarious after a call by International Criminal Court chief prosecutor Luis Moreno-Ocampo for arrest warrants against the strongman, his second-oldest son Seif al-Islam and his brother-in-law Abdullah al-Senussi — for crimes against humanity.
Libya's government has dismissed the ICC's bid, saying the court has no jurisdiction over Tripoli while denying accusations the regime ordered the killing of civilians or hired mercenaries against them.
UN chief Ban told AFP his special envoy to Libya, Abdul Ilah Khatib, has been "working very hard" without progress to report in his efforts to sway Kadhafi to declare an immediate and verifiable ceasefire.
Ban said he was very concerned about rebel-held Misrata, which was under siege from Kadhafi forces for more than two months and where hundreds were killed. "The situation is getting very bad," he said.
Khatib travelled to Tripoli on Sunday where he held talks with officials on the need for a ceasefire and access to stricken cities.
He did not meet Kadhafi, who has stubbornly refused to call a halt in the conflict which erupted when he ordered his forces to put down pro-democracy protests launched on February 15 against his autocratic four-decade rule.
Thousands of people have died in clashes between rebels and loyalists, and some 750,000 have been forced to flee, according to the International Criminal Court and the United Nations.
Having lost vast swathes of Libya's east to rebels, and with almost daily bombardments by NATO jets acting under a UN mandate to enforce a no-fly zone and protect civilians, the regime appears to have its back to the wall.