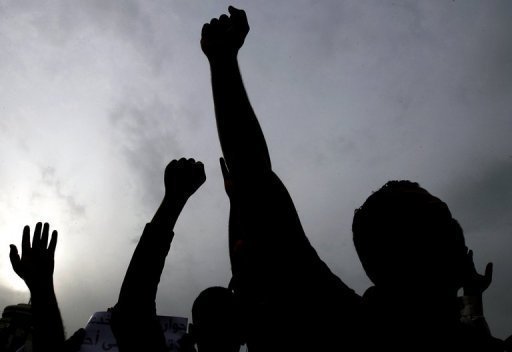 Last updated: 6 June, 2011
Bahrain medics say tortured to confess
Shiite medics on trial in Bahrain on charges of involvement in anti-government protests said on Monday that they had been tortured into signing false confessions, family members said.
The medics told their families and lawyers after a hearing at a special court that they had been "subjected to physical and psychological torture to extract confessions," a relative said.
They were also tortured to "force them to sign statements that contained untrue accusations," a relative added, requesting anonymity.
The medics appeared in the court set up under emergency laws decreed by King Hamad in mid-March on the eve of an all-out crackdown on Shiites who led a month of pro-democracy protests.
A total of 24 doctors and 23 nurses working at Salmaniya hospital were in May referred to the court on an array of charges.
The official BNA news agency said that 20 of the defendants, including four women, were accused of possessing unlicensed firearms, occupying the hospital, seizing medical equipment and calling for regime change.
Twenty-eight of them, including five women, face charges of spreading false news about the number of casualties in the police crackdown on protesters, in addition to taking part in "gatherings", BNA added.
The hearing was adjourned to June 13.
In May, the government said the charges included "refusal to extend assistance to a person in need, embezzlement of public funds, assault, assault that resulted in death, unauthorised possession of weapons and ammunition, refusal to perform duties and putting people's lives and health at risk."
They were also charged with "illegal detention, abuse of authority to suspend and stall laws and regulations, attempts to occupy buildings by force, incitement to the forceful overthrow of a political regime."
In addition, they were accused of "incitement to hatred of a regime, incitement to hatred of a segment of society, dissemination of false news and malicious rumours that could harm public interest and participation in unauthorised rallies and meetings," the government said in a statement.
Medics were allowed to see their families for 30 minutes after the hearing on Monday for the first time since their detention.
In the first hearing on Sunday, the court divided the defendants into two groups, one charged with crimes and the second with misdemeanours.
Authorities in the Sunni-ruled Shiite-majority Gulf state last week lifted the state of national safety, or emergency, imposed at the time of the crackdown.
Hundreds of Shiites have been referred to courts over the protests.
Four people have been sentenced to death and three others to life in prison over the killing of two policemen. Nine others were jailed for 20 years after being convicted of abducting a policeman.
Meanwhile, the trial of a Shiite woman arrested for insulting the ruling family in a poem she read out during the protests was adjourned to June 12.
Ayat al-Gormezi, 20, was arrested in March. She is accused of insulting the king, taking part in banned gatherings and spreading false information, according to the opposition.
Police fired tear gas on Sunday to disperse Shiites who took to the streets in various villages and Manama neighbourhoods to commemorate a Shiite religious day, opposition activists said.
The largest Shiite opposition group, the Islamic National Accord Association (Al-Wefaq), condemned the "suppression of religious processions," adding that it represented a "flagrant violation of religious rights."