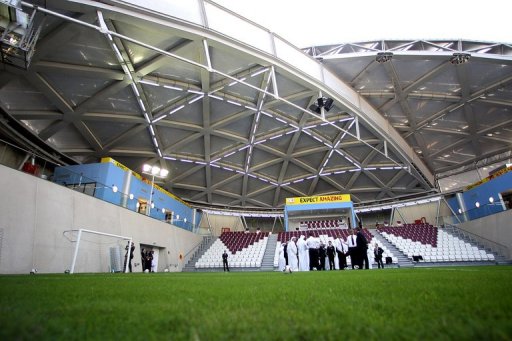 Last updated: 7 July, 2011
Qatar denies World Cup to have 'games of three thirds'
The organisers of the 2022 World Cup in Qatar on Thursday dismissed reports that games at the tournament will be broken into three thirds in order to spare players from the intense summer heat.
Michael Beaven, a director of Arup Associates, who are working on technology to cool stadiums in the Gulf state, had suggested on Wednesday that matches could be split into three 30-minutes parts.
However, a statement released by the tournament organising committee said there were no plans to abandon the game's traditional format.
"Splitting the games held during the FIFA World Cup 2022 in Qatar has not been discussed at any time," said Qatar 2022 in a statement sent to AFP.
"Statements on this subject made yesterday by Mr Beaven from ARUP are without any foundation. All 64 games in 2022 will be played in carbon neutral cooled stadiums in two halves of 45 minutes as per regulations.
"Representatives from ARUP are not spokespeople for Qatar 2022."
Beaven's company are working on plans to provide air conditioning in the 12 stadiums set to host matches, amid fears about the effects of Qatar's summer temperatures, which regularly exceed 40 degrees Celsius.