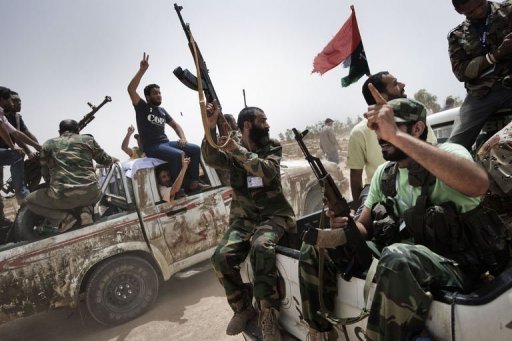 Last updated: 21 July, 2011
Libya rebels seek arms amid pre-Ramadan offensive
Libya's rebels asked France for extra arms to help them overrun Tripoli within "days", as they ramped up a pre-Ramadan offensive that has Moamer Kadhafi's troops on the run in the east.
The request was made in Paris on Wednesday to French President Nicolas Sarkozy by military leaders from the rebel-held city of Misrata, a member of their delegation said.
Rebel leader Mahmud Jibril meanwhile was expected to seek additional aid for their military campaign from Spain during talks in Madrid on Thursday with Spanish Foreign Minister Trinidad Jimenez.
Sarkozy held talks at his Elysee presidential palace with rebel General Ramadan Zarmuh, Colonel Ahmed Hashem and Colonel Brahim Betal Mal, as well as Suleiman Fortia, a local representative of the rebel leadership in Misrata.
"With a little bit of help, we will be in Tripoli very soon. Very soon means days," Fortia told reporters after the meeting. "We are here in France to discuss how we can do the job."
France is taking part in NATO-coordinated strikes against Kadhafi's military assets and was the first outside state to formally recognise the rebels' Transitional National Council.
It has already dropped arms to the rebels in the Nafusa Mountains, southwest of Tripoli, to help them defend themselves against Kadhafi's forces. A rebel source said they were looking for similar deliveries of arms and munitions to Misrata.
"Insurgent commanders came to explain to the head of state that the keys to Tripoli are in Misrata," said a supporter of the rebels, French writer Bernard-Henri Levy, who attended the talks.
"Misrata's fighters are disciplined, battle hardened and they have a key asset: a military victory already won" against loyalist forces, Levy told AFP after the meeting.
Misrata, around 200 kilometres (125 miles) east of Tripoli, has been controlled by rebels since mid-May, after a two-month siege by Kadhafi forces.
French Defence Minister Gerard Longuet said Kadhafi is losing control of crucial energy supplies as the rebels advance in the key eastern oil town of Brega, in Misrata and in the Nafusa mountains.
White House spokesman Jay Carney said the Libyan strongman was "cut off from fuel and cash."
Rebels claim to have chased the bulk of Kadhafi's eastern army from Brega while encircling loyalists holed up among oil installations in the northwest of the town.
As part of what now appears to be a countrywide effort to tighten the noose on Kadhafi before the Muslim fasting month of Ramadan begins around August 1, insurgents in the west said they were awaiting orders to start a fresh offensive from the Nafusa Mountains southwest of the capital.
During Ramadan, the endurance of even the hardiest volunteers will be tested by desert battle without food and water during the daytime fast observed by the faithful.
But at Brega, rebel gains were stymied by vast quantities of anti-personnel mines planted by retreating loyalists and the difficulties in attacking an estimated 200 Kadhafi troops fighting from positions near vital petrochemical facilities.
That difficulty was laid bare late on Tuesday, when 24 rebel fighters died. It was by far the rebels' bloodiest day since the battle for Brega began almost a week ago.
A rebel military source said many of the casualties came when troops closing on isolated Kadhafi forces were hit by a line-guided rocket attack.
Outside the town, rebel troops cleared minefields holding up their advance, while trying to dislodge Kadhafi's artillery to the west.
Libya's government has denied the rebels retook Brega. The rebels said Kadhafi troops inside the town were largely conscripts and volunteers who were surrounded.
On the front line of the western desert hamlet Gualish, the rebels waited patiently in the shade until the next battle as Ramadan approaches and the searing summer sun grows more intense.
"We are preparing for the battle. We hope (it will take place), God willing, before Ramadan," or just after, said rebel commander Mokhtar Lakhdar.
"If there is fighting during Ramadan, we will fight as usual. We will not stop until we have liberated Libya," he said in Gualish, where the mercury hit 45 degrees Celsius (113 Fahrenheit) on Wednesday.
Lakhdar said the rebels were waiting for the green light from their headquarters in the eastern city of Benghazi.
Around him young rebels debated fighting during the fasting month.
"During Ramadan, it will be harder but, God willing, we will not be weakened but rather be stronger. Ramadan is a good time to be a martyr," said Shaban Aabor, 38.
The next rebel target is Asabah, 80 kilometres (50 miles) south of Tripoli and the last barrier between rebels and the garrison town of Gharyan.
France meanwhile accepted Wednesday that Kadhafi could stay in Libya if he quits politics under a ceasefire deal, but the United States said it was for Libyans to decide.
Kadhafi's foreign minister, Abdelati al-Obeidi, said after talks in Moscow that the Libyan leader's "departure is not up for negotiation."