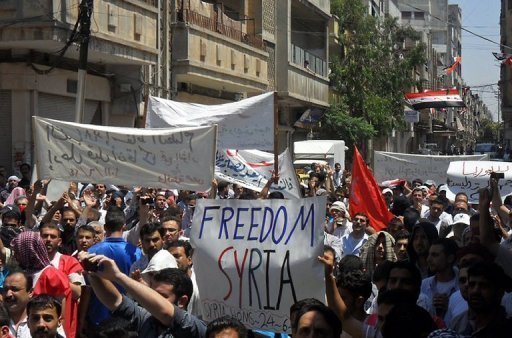 Last updated: 21 July, 2011
Syrian troops tighten clampdown on Homs
Syria's security forces Thursday pressed a clampdown against dissidents in the central city of Homs, where shots were heard, arrests were made and many streets were deserted, rights activists said.
"(Security forces) entered houses and made arrests," said Rami Abdel Rahman of the London-based Syrian Observatory for Human Rights, reached by telephone.
"Shots were heard in Homs from dawn," he added. "Most streets were deserted because of the military operations. Tanks were seen around the fortress and entrances to many neighbourhoods were closed."
Activists say pro-regime gunmen have killed at least 20 people in Homs since Monday, including seven mourners at a funeral.
Fierce fighting rocked the city at the weekend, with activists reporting more than 30 people killed in clashes among Christians, Sunni Muslims and President Bashar al-Assad's minority Alawite community.
Syria's third-largest city, Homs has spearheaded demonstrations against Assad and his regime since protests erupted on March 15.
The army had already entered the city in May in a bid to stop rallies calling for the fall of the regime.
Activists meanwhile called for more protests countrywide after the main weekly Muslim prayers on Friday, following a pattern that has become standard in many parts of the Arab world since popular uprisings toppled the veteran rulers of Tunisia and Egypt earlier this year.
Using the Facebook site Syrian Revolution 2011, one of the motors of the revolt against Assad's autocratic rule, the activists said Friday's protests will be in support of the residents of Homs.
It appealed for a mass turnout to honour "the grandsons of Khalid and for national unity."
Khalid ibn al-Walid, a companion of the Prophet Mohammed known for his courage and military prowess, is buried in Homs.
Last Friday, more than one million people turned out across Syria — mainly in the cities of Hama and Deir Ezzor — to protest against Assad's regime and to demand the release of hundreds of detainees seized at earlier pro-democracy rallies.
Human rights activists said at least 28 civilians were killed, including 16 in the capital Damascus and a child, when security forces opened fire to quell last week's protests.
The activists say the government's crackdown has left more than 1,400 civilians dead since mid-March. Thousands more have been jailed.