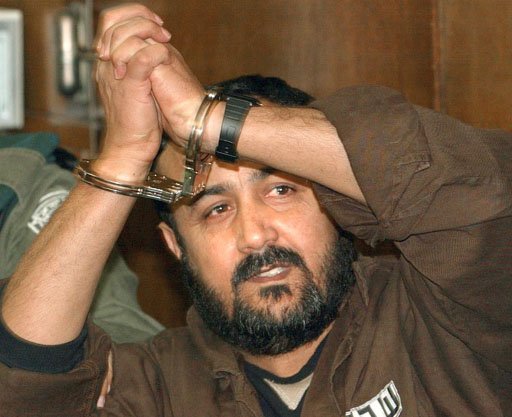 Last updated: 22 July, 2011
Jailed Palestinian leader moved to solitary
Jailed Palestinian leader Marwan Barghuti has been moved into solitary confinement after guards found a mobile phone in his cell, a spokesman for the Israeli prisons authority said on Friday.
"Marwan Barghuti was placed in isolation for two weeks after the discovery on Wednesday of a mobile phone in his cell which he was sharing with other prisoners," Sivan Weizman told AFP.
Using a mobile phone is banned in prison.
Barghuti, who is widely considered to be the architect of the second Palestinian uprising which began in 2000, is being held in Hadarim prison some 10 kilometres (six miles) north of Tel Aviv.
Earlier this week, Barghuti issued a statement from his cell in which he called for mass demonstrations across the occupied territories and the Arab world in support of the Palestinian attempt to secure UN recognition in September.
"Winning the battle of next September, which is an important step in our struggle, requires the biggest peaceful popular protests here and in the diaspora, and in Arab and Muslim countries and international capitals," Barghuti wrote.
The UN bid is fiercely opposed by Israel, which has already begun preparing for the possibility of large-scale demonstrations in the West Bank, Gaza and along its borders in September.
A lifelong activist who supported the Oslo peace process in the 1990s, Barghuti was sentenced in 2004 to five life terms for murder for his role in several anti-Israeli attacks.
He has since said he never supported attacks on civilians inside Israel.
Barghuti is hugely popular among the Palestinian public and has been touted as a possible successor to Palestinian president Mahmud Abbas.