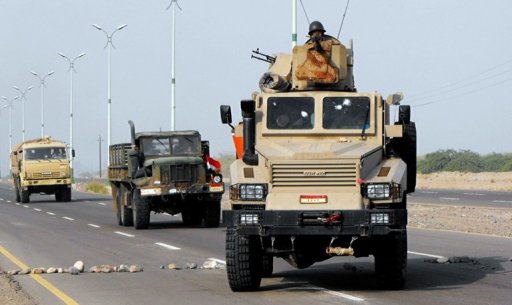 Last updated: 2 October, 2011
25 soldiers killed in Yemen Qaeda battles
At least 25 soldiers have been killed in a friendly fire incident and clashes with militants linked to Al-Qaeda in south Yemen, security officials said on Sunday.
The officials said some of the soldiers were killed in a strike by the Yemeni air force that mistakenly hit a school in the southern town of Zinjibar.
State television, however, cited an unnamed military official denying that soldiers were killed in a friendly fire incident.
Hundreds of militants from the Al-Qaeda-linked Partisans of Sharia (Islamic law) group overran Zinjibar in May, and it has been the scene of bitter fighting.
One military official told AFP on condition of anonymity said that the air strike on the school killed a large number of soldiers.
"Al-Qaeda militants then attacked the school after the air strike and killed even more soldiers," he said, adding that at least 25 had been killed at the school.
Officials at the military hospital in the nearby port city of Aden said they were unable to confirm the deaths as their ambulances could not reach the location because of "intense fighting" between soldiers and militants.
Zinjibar, the capital of the Yemen's troubled southern Abyan province, and at least three other towns in the area were overrun by militants in May.
Since then, troops have been battling to take back control of the region.
Saturday's fighting came a day after one of Al-Qaeda's top leaders in the Arabian Peninsula country, US-born cleric Anwar al-Awlaqi, was killed in an apparent US drone strike.
Al-Qaeda in the Arabian Peninsula (AQAP) has taken advantage of nearly nine months of sweeping unrest against President Ali Abdullah Saleh to bolster its presence in the restive south and east Yemen, launching regular attacks.
In other unrest, a seven-year-old girl was killed when a rocket struck near a school in al-Akama neighbourhood, in the centre of Sanaa, witnesses said.
The source of the bomb was not clear, but clashes had erupted in north Sanaa between troops from the First Armoured Division, led by defected General Ali Mohsen al-Ahmar, and forces from the Central Security that is loyal to Saleh.
Eight people were wounded in the gunbattle which took place in a busy market area at a junction between Hail street and al-Zubairi street, witnesses and medics said.
Protests have raged since January in the impoverished country demanding the ouster of Saleh who has been in office since 1978.