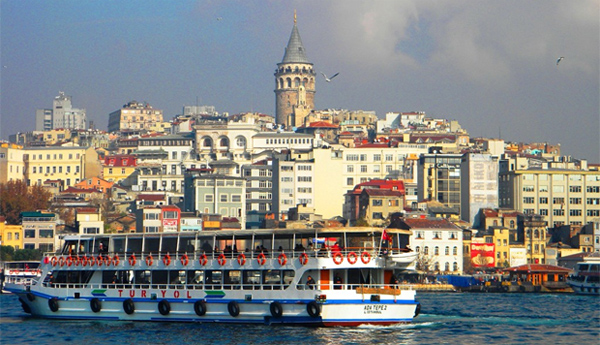 Last updated: 23 November, 2011
The changing face of Karaköy
You may come across a poster of Ayatollah Khomeini on your stroll around Istanbul's Karaköy neighborhood. But rather than this being a sign of Erdogan's AKP turning Turkey into the next Iran, it is merely a remnant of Ben Affleck filming his latest political thriller Argo.
Imposing historical buildings suffering urban decay, easily allow Karaköy to pass as the backdrop for 1979 Tehran and lend a film noiresque feel to the neighborhood. While the surrounding Beyoglu district has undergone a phase of urban renewal over the last decade, Karaköy – for the moment – has remained static in an overall industrial setting. However, centrally located Karaköy is also drawing a number of creative artists and agencies poised to witness the quarter's impending redevelopment.
In 2009 two American women, Anne Weshinskey and Julie Upmeyer, founded Caravansarai as an independent art production space and meeting point near the bustling Persembe Pazari (Thursday Market), thronging with mechanical, electrical, plumbing and electronic parts suppliers. Fittingly enough, Karaköy which was turned into a township by Genovese traders in Byzantine times, Caravanserai was the name for roadside inns along commerce routes such the Silk Road, connecting information and people across Asia, North Africa and South-Eastern Europe.
Istanbul is special as there is still an industrial area right in the city center, Weshinskey and Upmeyer said in their blog. They describe Karaköy as a rapidly changing neighborhood, which will soon turn into an area "where all you will be able to buy is a double latte or a pair of designer shoes." "Encroaching development has spurred us to record the neighborhood in its current state before we, and our hardware-trading neighbors, are phased out. Our intention with this project is to observe the changing face of the area using non-standard and creative ways of documentation."
Rising real estate value
Karaköy has always been a port neighborhood, and is beleaguered almost daily by enormous cruise ships, as it remains a very important harbor for sea traffic between the Mediterranean and the Black Sea. Istanbul Mayor Kadir Topbas said in an interview published recently that he no longer wanted Istanbul to be an industrial city. The aim would be to replace old technology industrial zones with advanced facilities, and now investors are eyeing the highly prized waterfront with its historical buildings.
Real estate investment trust Akfen GYO is planning to open a 200 room 5-star hotel on a 3,400 square meter property next to the Galata Bridge by 2014.
"It is definitely an area undergoing radical change," said Christian Feiland, initiator of Istanbul's Mediapool, which hosts Turkey's largest international community of media professionals with reporters from up to 10 different countries at a time. Feiland also co-owns the production company Xoom Media, formerly known as Feiland Media, together with Mustafa Yilmaz. "The view from the top floor of our office in Karaköy overlooking the historical peninsula was perfect for live reporting and had the Istanbul recognition value we were looking for," they told Your Middle East.
Due to the rising real estate value, however, the building on Kemeralti caddesi may be placed on the market very soon, forcing them to move. Million dollar restoration projects are in store for Karaköy, turning decaying caravanserais and 19th century banks into boutique hotels. Similar projects by the NOA Group and The House Hotel have already changed the landscape of Beyoglu uphill from Karaköy.
Maintaining historical continuity
At the center of Karaköy lies Bankalar caddesi, Bank street, where the non-profit arts center SALT inaugurates its second landmark building, the imperial 19th century Ottoman Bank, this month. With its interactive, project-based community events, such as 'The Making of Beyoglu,' SALT so far resembles an urban laboratory that is more forward looking and experimental than any other museum or arts center in Turkey. Kortun, long established as director and curator of museums and exhibitions in Turkey and abroad said, SALT was not resting on its laurels and that he viewed SALT as a research institution with things to prove.
In over 10,000 square meters the non-profit will house spaces dedicated to research, workshops, exhibitions and Turkey's largest public library of printed and digital resources on modern and contemporary art, vernacular design and architecture, as well as an archive of Istanbul's socio-cultural history. The erasure of collective memories is dangerous, Kortun told YourMiddleEast, underlining his dedication to producing continuities and preserving common cultural denominators.
During the Ottoman era, Karaköy was a popular residential area for Jews, Armenians and Greeks, the evidence of which is still visible today in French, German, Greek, Austrian and Italian schools, churches and synagogues.