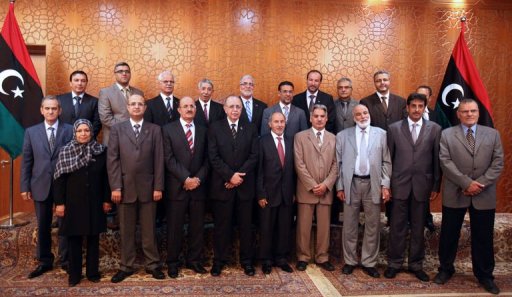 Last updated: 24 November, 2011
Libya's new government takes office
Libya's new transitional government was sworn in on Thursday tasked with uniting the war-ravaged country and paving the way to a new constitution and general elections in seven months.
The ministers pledged to remain faithful to the "objectives of the February 17 revolution" and to "preserve the independence of Libya, its security and the unity of its territory."
Several ministers were absent, including the new defence and oil ministers, and will take their oaths of office at a later date, Prime Minster Abdel Rahim al-Kib told reporters at the ceremony.
"This is a very upbeat mood, everybody is excited. We had a very exciting meeting, very productive," he said.
Kib unveiled his cabinet on Tuesday and quickly drew barbs from Libya's regions, including representatives of the Berber minority and opposition stalwarts in Benghazi, who complained of their "marginalisation" in the new government line-up.
But Kib, whose task was to name a government of technocrats with the goal of rebuilding a country scarred by war and 42 years of dictatorship, sought to reassure doubters.
"I will be representing all the Libyans in this government," he said.
"I will not be someone who would overlook any small piece of Libya, but will represent everybody and will share the wealth with everybody," he said.
He stressed that all regions would have their share, especially once the remnants of the old regime of slain leader Moamer Kadhafi were removed from the state bureaucracy.
"There will be many jobs, the remains of the (old) regime are present in state agencies and institutions and we want to clean them out and replace them with men and women patriots from all over Libya," he said.