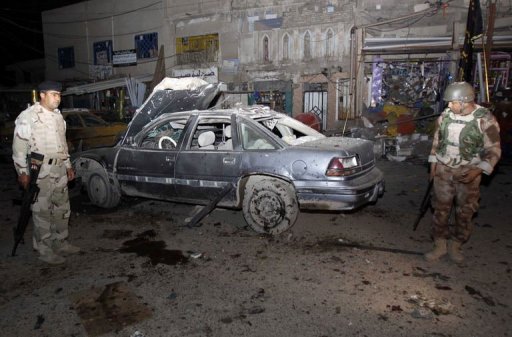 Last updated: 25 November, 2011
Iraq province sacks top officers after bombings
The head of the Basra provincial council announced the firing of three top security officers on Friday, a day after a triple bombing in the provincial capital left 19 people dead.
Following an emergency session held in the governorate building, "the council took the decision to fire three security commanders," Sabah al-Bazuni told journalists in the southern port city of Basra.
They are emergency regiment commander Brigadier General Mazin Abdulwahid of the Iraqi army, the head of the major crimes department, police Brigadier General Ali Khairallah, and police internal affairs chief Colonel Oda al-Jaberi.
Bazuni added that it was also decided to approach the office of Prime Minister Nuri al-Maliki to request that the head of Basra operations command, Major General Mohammed Jawad Huwaidi, be fired as well.
Three bombs exploded in Basra on Thursday, killing 19 people, including high-ranking army and police officers, and wounding at least 65.
An interior ministry official said that an army brigade commander and a high-ranking police officer were among the dead, while police and soldiers were also wounded in the blasts.
On November 2, three motorbike bombings in Basra killed at least nine people and wounded at least 37.