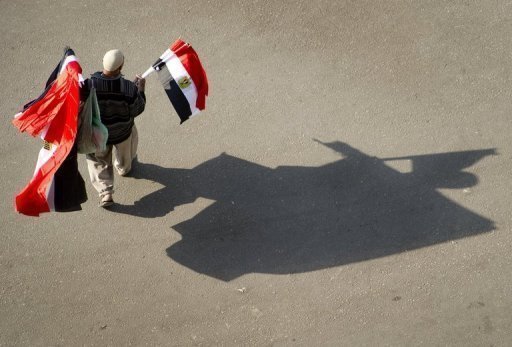 Last updated: 5 December, 2011
Islamists look to extend gains in Egypt
Islamist candidates on Monday looked to extend their crushing victory in Egypt's first parliamentary elections since the overthrow of president Hosni Mubarak, as voters turned out for run-off polls.
Last week, residents in a third of the country's districts including Cairo and second city Alexandria cast ballots at the start of the multi-stage polls, choosing a party and two candidates for a new 498-seat lower parliament.
In the party returns, Islamists picked up at least 65 percent of votes, with the more moderate Freedom and Justice Party (FJP) in first place with 36.6 percent and the hardline Salafist party Al-Nur second with 24.4 percent.
In the individual contests, all but four of the 56 seats up for grabs went into a run-off vote being held on Monday, with about 20 of them being contested between FJP and Al-Nur candidates.
"Whatever happens, the important thing is that an Islamist wins," said a woman dressed in black and wearing a veil revealing only her eyes as she handed out pamphlets for Al-Nur on Monday in the port city of Alexandria.
The surge in Salafist groups, which advocate a fundamentalist interpretation of Islam dominant in Saudi Arabia, has raised fears among increasingly marginalised liberals about civil liberties and religious freedom.
Voter turnout for the run-offs was far below the level seen last Monday and Tuesday — revised down from 62 percent to 52 percent on Monday — when queues had formed early in the morning outside polling stations.
The head of the election committee, Abdel Moez Ibrahim, said results from several polling stations would be withheld after court rulings cancelling votes in them after complaints of violations.
He said voting would continue in these stations, "but we are not going to declare the results until the higher administrative court rules."
In the wealthy neighbourhood of Zamalek in Cairo, one of the few liberal hopefuls to have escaped the decimation of last week's voting, Mohammed Abu Hammad, was locked in a battle with a Muslim Brotherhood candidate.
"I voted for Abu Hammad. If he doesn't win here, I don't know where liberals will win," Amr al-Gidawi, a corporate lawyer, told AFP at a school where voters were trickling in.
Out of the 52 run-off contests taking place, the Muslim Brotherhood's FJP said it had a candidate in 47 of them, while Al-Nur has 26, meaning they are almost certain to increase their representation in the new assembly.
The FJP had been widely forecast to triumph in the first free election in decades taking place 10 months after the toppling of Mubarak who stepped down in February in the face of 18 days of street protests.
It is the country's most organised political group despite being officially banned but tolerated for decades, and is well known for its charity work and opposition to Mubarak's 30-year regime.
Leaders were at pains to stress during campaigning that they were committed to multi-party democracy, inclusiveness and civil liberties, while also advocating the application of sharia Islamic law.
But the newcomer Salafist parties formed after Mubarak's fall trailed them only slightly in Alexandria and won a majority in northern Kafr el-Sheikh and Damietta provinces.
Followers of the hardline strain of Islam advocate a stricter segregation of the sexes, the full veiling of women and a ban on alcohol.
Sunday also brought news of the first violence since voting began when the driver of a liberal candidate died in a gunfight with supporters of the moderate Al-Wasat party in the northern Manufia province, local reports said.
The build-up to the election had been ominous, with 42 people killed and more than 3,000 injured in violent protests against the interim military regime that is overseeing Egypt's transition to democracy.
There were few bright spots in last week's voting for the liberal secular movement which played a key role in the uprising that led Mubarak to hand power to a council of army leaders.
The main liberal coalition, the Egyptian Bloc, won just 1.29 million out of 9.73 million votes cast, or 13.4 percent. The fragmented and disorganised liberal movement won 29.4 percent, according to an AFP calculation.
Israel, which shares a border and peace agreement with Egypt, has expressed deep concern over the trend.
"We are worried," Finance Minister Yuval Steinitz said on Sunday, adding that he hoped Egypt "won't become an extremist Islamist state because that would put the whole region in danger."
Polling stations closed on Monday at 1700 GMT, an AFP reporter said, adding that the day's balloting had passed off without incident.
Voting last Monday and Tuesday was only the opening phase of an election that will see the remaining two-thirds of districts go to the polls later this month and in January. Final results are due on January 13.