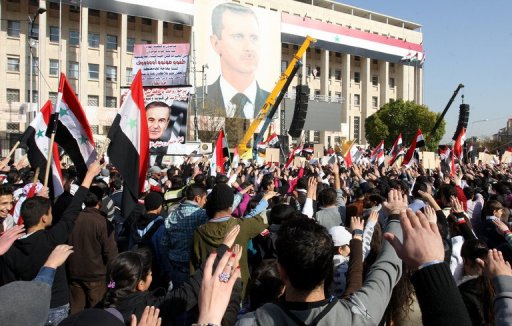 Last updated: 30 August, 2017
Syria loyalists rally as Arabs await answer on deal
Syria agreed Monday to allow Arab observers to monitor a deal to end a nine-month protest crackdown, in a move dismissed by the opposition as a ploy and followed by even more reports of bloodshed.
The Syrian Observatory for Human Rights said between 60 and 70 army deserters were gunned down as they fled their military posts in northwestern Idlib province, while another 40 civilians were killed elsewhere.
The reports came as the UN General Assembly passed a resolution that "strongly condemns… grave and systematic human rights violations" by Syria, highlighting "arbitrary executions" of protesters and rights defenders.
After weeks of prevarication, President Bashar al-Assad's embattled regime signed a deal at the Arab League headquarters in Cairo to accept observers to monitor a plan to end the bloodshed.
The Arab League said an advance team of observers from Arab countries would head to Damascus within 72 hours, and the mission would last for a renewable initial period of a month.
Syrian Foreign Minister Walid Muallem welcomed the deal and expressed hope the bloc would lift sweeping sanctions on Damascus.
But Burhan Ghaliun, head of the opposition Syrian National Council (SNC), accused Assad's regime of "manoeuvring" to avoid threatened UN Security Council action.
More than 5,000 people have been killed in the crackdown on nationwide democracy protests that erupted in mid-March, according to the UN's latest estimate issued a week ago.
"Signing the protocol is the start of cooperation with the Arab League and we will welcome the observers' mission from the Arab League," said Muallem, adding the League agreed to 70 percent of changes sought by Damascus.
At a joint news conference in Cairo with Syrian Deputy Foreign Minister Faisal al-Maqdad, who signed the accord, Arab League chief Nabil al-Arabi said an advance team of observers would go to Damascus "within two or three days".
"The Arab League has a list of 100 names of observers from Arab, non-governmental organisations and representatives of Arab countries… (and) this number will be increased at a later date."
The plan also calls for a complete halt to the violence, releasing detainees and the military's complete withdrawal from towns and residential zones. Syria must also hold talks with the opposition under League auspices.
At the United Nations, Western envoys said the Syrian pledge would be taken into consideration at talks on a Russian-proposed Security Council resolution but expressed doubts that it would be carried out.
"It's all about implementation," Britain's UN ambassador Mark Lyall Grant said ahead of the talks on the Russian resolution to condemn violence by both sides.
France, which spearheads international pressure on Syria to end its deadly crackdown, said the observers could not be in place quickly enough.
"We regret there have been 30 more deaths in the past two days. It's urgent," a foreign ministry spokesman in Paris said.
And the SNC umbrella group of opposition factions poured scorn on the regime's acceptance of the plan, and sought Arab military intervention if the crackdown continues.
"The Syrian regime is manoeuvring to try to prevent the Syrian file being submitted to the UN Security Council," said Ghaliun. "This is just a ploy. They have no intention of implementing any initiative."
"If the Syrian regime continues its violent repression, the SNC will resort to Arab dissuasion forces. We need to make use of force in a limited way and in specific areas," he told reporters in Tunis.
The Arab League had warned it would take Syria to the UN Security Council if Damascus continued to resist plans to admit observers.
Syria's regional ally Iran, meanwhile, backed Damascus' decision.
The Arab League plan "contains many of the points Iran was also looking at," even if not all concerns were addressed, said Iranian Deputy Foreign Minister for Arab and African Affairs Hossein Amir Abdolahian.
There was no sign of the bloodshed easing on Monday.
Activists said security forces killed at least 19 civilians and left many wounded, including a child in the restive Damascus neighbourhood of Midan.
The child was wounded when security forces opened fire on demonstrators at the funeral of a 13-year-old girl killed on Sunday, said the Syrian Observatory for Human Rights.
Another child was seriously wounded when security forces opened fire in northern Idlib province, where several other people were also wounded, said the Britain-based Observatory.
Army deserters killed three loyalist troops in Idlib province, it said in a statement sent to AFP in Nicosia.
Syria blames the unrest on "armed terrorist groups" — not peaceful protesters as claimed by Western powers and rights groups — and Muallem said he hopes the observer mission will vindicate this contention.
He said the observers would be provided with security escorts, and that they would be allowed to visit only protest hubs and other flashpoints, not sensitive military sites.
Syria would also allow in foreign media, provided they report objectively.
The 22-member Arab bloc had been trying to persuade Damascus to accept the observer mission for weeks, and last month hit Syria with sanctions after it refused to sign the deal, saying it undermined its sovereignty.
Iraq's national security adviser, Falah al-Fayadh, said meanwhile that members of Syria's opposition would visit his country next week as part of Baghdad's efforts to end the unrest.