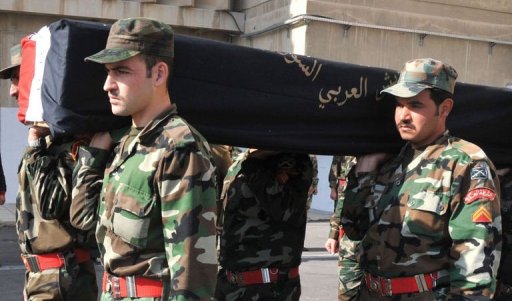 Last updated: 20 December, 2011
Syria urged to apply Arab deal as deaths mount
At least 100 Syrian army deserters were killed or wounded in clashes and 49 civilians killed Tuesday, a rights group said, as Damascus faced new demands to halt its bloody crackdown on dissent.
Meanwhile, the air force and navy carried out live-fire manoeuvres to test their preparedness to repel any foreign aggression, amid long-standing fears that the international community might agree to a Libya-style intervention.
And in Cairo, the Arab League said an advance team of observers would head to Damascus on Thursday to lay the ground for monitors overseeing a plan to which Syria agreed on Monday.
The Syrian Observatory for Human Rights, which provided the army casualty figures, also reported 37 civilians killed in the northwestern province of Idlib, where the deserters also lost their lives, and another 12 in the central city of Homs.
Separately, it spoke of 14 civilians shot in Idlib, but did not specify whether they were killed or wounded.
"After clashes that broke out this morning with the regular army, 100 deserters were besieged then killed or wounded between the villages of Kafruwed and Al-Fatira" in the Idlib district of Jabal al-Zawia, the Britain-based rights group said in a statement received in Nicosia.
It also said 14 members of the security forces were killed in southern Daraa province, where the protests broke out in March.
After reporting that more than 100 deserters and civilians were killed on Monday, the organisation urged Arab League chief Nabil al-Arabi to "intervene immediately to end this eventual massacre."
State news agency SANA reported clashes with "an armed terrorist group" in Qusayr in Homs province, and said several were killed or wounded, while the military suffered no casualties.
Arabi's deputy Ahmed Bin Helli said in Cairo "an advance team (of observers) will head to Damascus on Thursday."
The team would include security, legal and administrative observers, with human rights experts expected to follow, and be headed by fellow assistant secretary general Samir Seif al-Yazal.
Bin Helli said General Mohammed Ahmed Mustafa al-Dabi, former head of Sudanese military intelligence and state minister for security arrangements, would head the mission.
Damascus has pledged to cooperate fully with the terms of the agreement, but the promise seemingly failed to persuade many world powers.
Gulf Cooperation Council rulers urged Syria to immediately halt its "killing machine" and "lift all signs of armed conflict."
Washington also expressed doubt that Syria was genuine in its promise.
"A signature on a piece of paper from a regime like this, that has broken promise after promise after promise, means relatively little to us," State Department spokeswoman Victoria Nuland said Monday.
And Sarah Leah Whitson, Middle East director at Human Rights Watch, said the Arab League needs to show that its observers are "independent and able to work effectively" to dispel "well-founded fears of yet another Syrian stalling tactic."
The observer mission is part of an Arab peace plan endorsed by Syria on November 2, which also calls for a halt to violence, releasing detainees and the withdrawal of the military from towns and residential districts.
Despite signing the accord, Syria has failed to convince either the opposition or Western governments pushing for tough UN action that it is willing to follow up its words with deeds.
"Violence must immediately end, the military withdraw, political prisoners be released and unhindered humanitarian access be granted," said German Foreign Minister Guido Westerwelle.
The opposition Syrian National Council charged that Damascus's acceptance of observers was merely a "ploy" to head off a threat by the pan-Arab bloc to go to the UN Security Council.
"It's all about implementation," said Britain's UN ambassador Mark Lyall Grant.
Syria blames the unrest on "armed terrorist groups" — not peaceful protesters as maintained by Western powers and rights groups — and Muallem said he expected the observer mission to vindicate that position.
On Monday the UN General Assembly overwhelmingly approved a resolution condemning human rights abuses in Syria, where the UN estimates more than 5,000 people have been killed in the crackdown since mid-March.
Meanwhile, SANA said the Syrian navy and air force conducted live-fire manoeuvres on Tuesday to test their preparedness to repulse "any aggression against the homeland.
"The air force and air defences conducted manoeuvres with live ammunition… with a view to testing the combat capabilities of the air forces and to test their readiness to respond to any aggression" against the country, it said.
The agency added that naval forces had carried out similar exercises.
At the beginning of December, the military also carried out exercises that one analyst said was a show of force designed to intimidate.
Another said the war games aimed to deter "any (Western) impulse to intervene militarily in Syria by showing that it is prepared to declare a regional war."