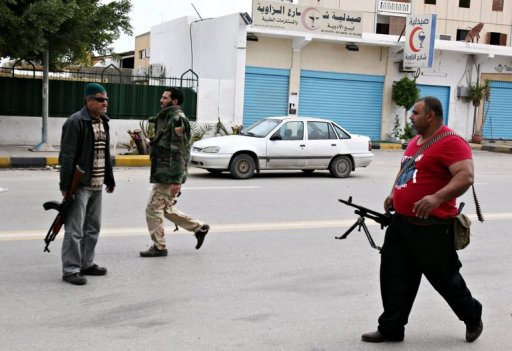 Last updated: 15 January, 2012
Libyan militias clash south of Tripoli
Rival Libyan militias clashed on Sunday south of Tripoli, sources told AFP, raising fresh security concerns with the war-torn North African country still emerging from a bloody conflict.
A militia from the town of Gharyan, approximately 80 kilometres (50 miles) south of Tripoli, clashed with a rival armed group from the nearby town of Assabia, an official in Prime Minister Abdel Rahim al-Kib's office said.
He said there was no immediate information on casualties, but added that the two militias had been fighting since Friday.
The clash erupted after an Assabia resident killed a local from Gharyan, a source from Libya's high security committee said.
The source said two people were killed and at least 39 wounded on Saturday, adding that the fighting stopped late on Saturday only after Defence Minister Osama al-Juili rushed to the area.
The rival groups used guns and Grad rockets against each other, the source said.
Libyan militias, which have refused to give up their arms despite the end of the conflict that ousted slain dictator Moamer Kadhafi, often clash with sometimes fatal results.
In early January a gunfight erupted in Tripoli itself, when a group of men from Libya's third-biggest city Misrata traded anti-aircraft and heavy machinegun fire with a militia from a central Tripoli neighbourhood in broad daylight.
Four people were killed and several wounded in the battle that lasted for hours.
In the absence of regular security forces, the militias who helped oust Kadhafi provide some semblance of order on the streets, despite often clashing between themselves.