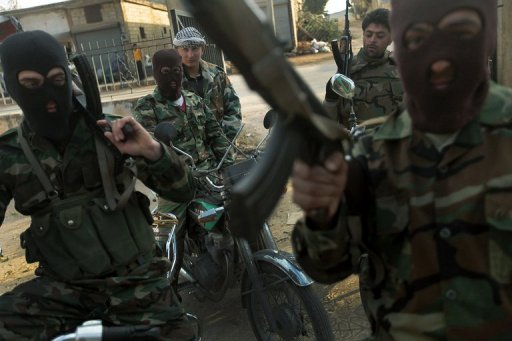 Last updated: 18 January, 2012
Syria accuses Qatar of arming rebels
Syria's state-owned media on Wednesday accused Qatar of arming and financing opponents of President Bashar al-Assad's regime.
Qatar's call to send Arab troops to the country "falls within the framework of the negative role played by Qatar since the start of this crisis… through the financing of armed groups," the Tishrin newspaper charged.
The Gulf state "can help Syria get out of its crisis… by stopping its financing of armed (groups) and the trafficking of weapons" to insurgents, wrote the daily.
Qatar's emir, Sheikh Hamad Ben Khalifa al-Thani, said in an interview aired at the weekend that he backs sending Arab troops to Syria, where the regime has been trying to crush a democracy protest movement with brutal force for the past 10 months.
Arab League Secretary General Nabil al-Arabi said the idea could come up for discussion at the next meeting of the pan-Arab body at its Cairo headquarters on Saturday and Sunday.
The Arab bloc is expected to discuss the future of its widely criticised observer mission to Syria, where the United Nations says the regime's crackdown on protests has cost more than 5,400 lives since March.
Damascus routinely blames the violence in Syria on "armed groups" and "terrorists" backed by foreign powers pursuing an agenda of regime-change in the country.
Tishrin also accused Qatar of blocking any solution to the crisis in order to "ramp up international pressure" on Damascus.
The daily also accused Qatar of "manipulating information" on Syria through its satellite television channel Al-Jazeera.
The accusations come one day after Damascus flatly rejected Qatar's proposal to send troops to Syria.
"Syria rejects the statements of officials of Qatar on sending Arab troops to worsen the crisis… and pave the way for foreign intervention," the foreign ministry said.
"The Syrian people refuse any foreign intervention in any name. They will oppose any attempt to undermine the sovereignty of Syria and the integrity of its territory," the ministry added.