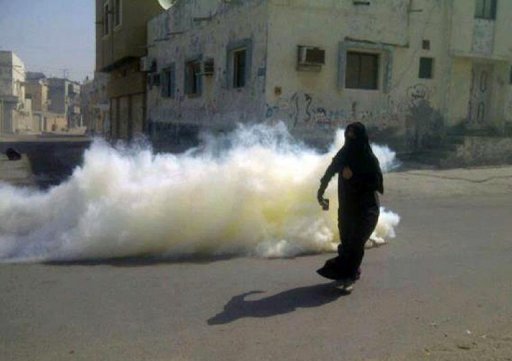 Last updated: 25 February, 2012
Bahrain opposition says violations by authorities is on the rise since probe
Bahrain's main opposition formation Al-Wefaq said on Saturday that a woman had died from tear gas inhalation, noting that "violations" by the authorities have increased over the past several months.
A woman in her 70s, "Abdat al-Hussein, died because of the excessive use of tear gas by security forces in Al-Sahla" region, said the Shiite grouping without giving further details.
It said "violations have increased" since the Bahrain Independent Commission of Inquiry (BICI) released its November report into Shiite-led protests in the Sunni-ruled Gulf kingdom in February and March last year.
"Twenty protesters have lost their lives since the commission began its work" late last June, an Al-Wefaq statement said.
"Cases of arbitrary arrest have also increased as citizens are detained for 30 or 45 days without any charge," it said, adding that "security members who run over people, steal or break the law are not held accountable."
The BICI head said in November that security forces had used "excessive force" and tortured detainees in its month-long crackdown on dissent.
The report said that 35 people had died, including five from torture.