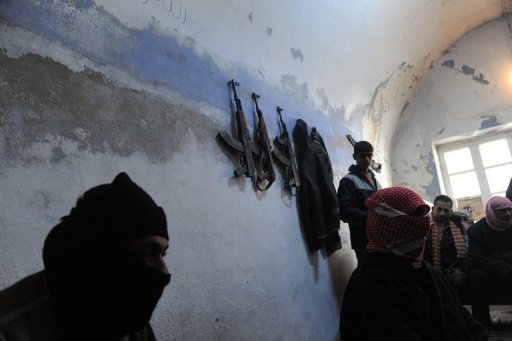 Last updated: 7 March, 2012
Foreign jihadists fighting in Syria battlefields
Foreign Sunni jihadists are fighting alongside Syrian rebels who have taken on President Bashar al-Assad, but their numbers are hard to assess and almost certainly small, insurgents and analysts say.
An AFP correspondent who met several Syrian rebels over a week in the city of Homs, which was recaptured by regime forces on Thursday, said he sometimes saw them mingling with strangers of the same beliefs.
"Five Libyans fought with us in Homs. They were all killed," said a leader of a group from the rebel Free Syrian Army (FSA), which clashed with regime forces in Homs.
However, while denying that there are many foreigners battling Syrian forces, he said "there are a few, of different nationalities. But we are mostly Syrians."
While the numbers are difficult to pin down, one international expert said that, in a violence-wracked country, the possibility of foreign fighters participating in a rebellion always exist.
"In a country where chaos sets in, it goes without saying that space is created for foreign volunteers" but their role "will remain paltry unless the Syrian fighters see value in their presence," said Peter Harling, from the International Crisis Group.
In mid-February, an observer with the Arab League in Homs told AFP that "many foreign fighters," including Pakistanis, Afghans, Lebanese, Iraqis, Sudanese, Libyans and Yemenis led most of the fighting and "dominated everybody."
Harling dismissed that as fantasy.
"It is a product of his imagination. I do not see how foreigners at this stage of the conflict would impose anything" on the Syrians and "I do not believe that they are many."
Harling's views were echoed by Karim Emilie Bitar from the French Institute of International and Strategic Relations.
The proportion of foreigners "is probably very slim," said Bitar, while warning that it was "likely to grow now that Qatar and Saudi Arabia have openly announced that they favour militarisation of the Syrian revolution."
He said some foreign fighters were "members of Al-Qaeda, who responded to the call by Ayman Al-Zawahiri (the leader of the group), who has openly encouraged them to lead the fight in Syria."
"Most of these previously fought in Iraq. Other jihadists are more or less independents, from Libya or elsewhere, who were mobilised by images from Syria," he said.
The group leader from the Free Syrian Army denies Al-Qaeda has any role in the Syrian revolution.
"Al-Qaeda has nothing to do with us. Al-Qaeda does not interest us," he said.
The arming of the Syrian rebels as encouraged by Qatar and Saudi Arabia is being intensely discussed in Arab and Western spheres, but Washington is reluctant, fearing that weapons may land in the hands of Al-Qaeda.
Western fears were further aggravated after Iraqi Prime Minister Nuri al-Maliki recently said Al-Qaeda militants, who are well established in his country, had started to move to Syria.
But Harling disagreed, saying "there is no evidence at this stage that the Syrian conflict will evolve" as it did in Iraq, a country regularly torn by deadly suicide bombings carried out by local and international volunteers.
One such fighter is a 29-year-old Lebanese, who goes by the name of Al-Baghdadi, and "enlisted" in the Free Syrian Army.
He said he was a sniper in Baghdad supporting former Iraqi dictator Saddam Hussein during the US-led invasion of the country and returned to Lebanon after Saddam was ousted.
Pointing to a Christian comrade, he said in the Syrian rebellion religion "does not matter" and explained that he is fighting "the unjust regime of Assad to protect Syrian children from death."
Another jihadist who declined to give his nationality and wore a salwar kameez, a tunic common in Afghanistan, said he fought US forces in Afghanistan and Iraq, gaining the nickname "The Taliban."
He said France should establish a "no-fly zone" over Syria, and added jokingly "otherwise we will attack France after killing Bashar."
Suddenly turning serious, he said: "We do not want anything from the Americans; they are our enemies."