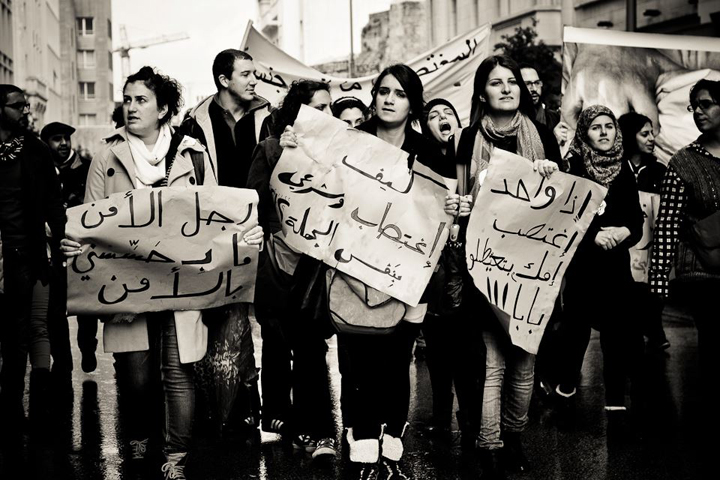 Last updated: 19 March, 2012
Lebanese parliament fails to protect women from violence
A draft law criminalizing family violence has been seriously distorted by the Lebanese parliament, gender equality campaigners have warned.
"We wanted a law that really tackled all the forms of violence that women experience," said Maya al-Ammar of KAFA: Enough Violence and Exploitation, a non-governmental organization (NGO) that has led efforts to introduce the law. "If this law passes with these changes, it will be a great loss."
KAFA has spent the last five years working with a coalition of NGOs on a law protecting women from mental, physical and economic violence, including so-called 'honor' crimes and marital rape. The bill was passed by the Council of Ministers in April 2010 and passed on to a parliamentary committee, who are expected to approve it within the coming weeks. However, the committee of eight MPs, comprised of seven men and one woman, has reportedly made so many amendments to the law that campaigners say it is now meaningless.
The draft formulated by the coalition sought to proscribe the different forms of violence experienced by women, create dedicated units within the police to probe cases of family violence, appoint public prosecutors in each district to oversee cases, and allow women and their children to obtain restraining orders against their attackers. In an unprecedented move, it also gave civil courts jurisdiction over family violence cases. Such cases are currently dealt with by religious courts, as is the case in many other Arab countries.
But leaked documents from the committee show that marital rape, economic and psychological violence have been entirely deleted from the law, Ammar said. The article establishing a specialized police force for family violence was removed and the law's gendered focus was watered down to extend protection to the elderly, men and children. The committee has also introduced an article granting religious bodies primacy over civil courts to oversee cases of family violence. Such radical amendments are "illogical," Ammar said. "It will make it much harder for a woman to prove she has been in a cycle of violence."
The changes appear to show the Lebanese government buckling to pressure from the country's powerful religious authorities. While women are theoretically guaranteed equality under the Lebanese Constitution, they face routine discrimination in matters relating to personal status, such as marriage or custody, which are presided over by 15 religious courts. These bodies have uniformly attacked the draft law as an attempt to diminish their influence and as alien to Lebanese values.
Last summer Dar al-Fatwa, the body presiding over Sunni Muslims, issued a statement deriding the law as "Western" and said it would "undermine the position of the man in his family."
The Higher Sharia Council in Lebanon followed suit, rejecting the law as "unnecessary and redundant as Sharia already addresses these issues and ensures women's wellbeing."
But the draft law was formulated precisely because religious courts are unable or unwilling to help women escape family violence, said Nadine Mouawad, a campaigner with the grassroots feminist collective Nasawiya. "Across all confessions, the priority of religious courts is to advocate for reconciliation, which often means brushing over instances of violence without addressing it. They are also inadequate in offering women shelter, separation rights, financial support, and other important elements of protection."
There are no statistics available in Lebanon on domestic violence, but data collected by KAFA suggests one woman a month is killed by a partner or a family member. About 35% of Lebanese women have been subject to some form of gender-based violence, according to Dr. Jinan Usta, a family medicine doctor at the American University of Beirut Hospital and researcher on domestic violence. "The Lebanese people are refusing to see that there is a major problem with domestic violence," Usta said.
In recent days, local newspapers have reported committee members as saying compromises over the law's most controversial clauses will be reached soon. But campaigners remain cautious, saying that anything less than the original draft law will be insufficient. "Women are citizens in Lebanon and as citizens they have a right to safety and protection," said Zeina Zaatari, regional director of the Middle East and North Africa program at the Global Fund for Women. "As human beings, they have a right to live securely and safely in an environment free of violence."
Press here for our photo essay from a demonstration in Beirut against rape and domestic violence.