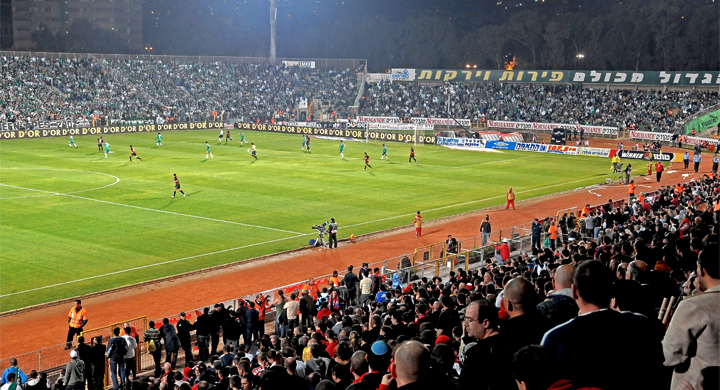 Last updated: 29 March, 2012
On football in Israel and Palestine
Football is very big in Israel, that is much more talk than real quality. Israel qualified only once to the World Cup tournament in Mexico 1970. A respectable participation by all accounts, two draws and one loss, but nothing to really brag about.
Since then, a lot of hot air ahead of every preliminary tournament, but failure after failure to get promoted to the finals. Blaming the referees , blaming the national coaches, blaming the Prime Minister of the day, and what's not, but blaming games and football games are two distinctly different games, so the Israeli football fans are left in a constant state of frustration, which is changing to euphoria whenever Holland wins…Holland being the more popular team in Israel.
Palestinians are also fanatic football fans, and while there still is not a Palestine member state in the UN, there is a full-fledged Palestinian membership in the international football association (FIFA). The Palestinian national team is also in the losing side, but in their case, there are mitigating circumstances, not least among them is the Israeli occupation, that is if you ask many of them.
But the truth is that it is not occupation or any other political condition that prevent the Palestinians from qualifying to the later stages of world and regional tournaments. They are new in the arena, and they will get better. Because there is no real difference between Palestinians who play in their own league, and Israeli Arabs, who, by and large, define themselves as Palestinian citizens of Israel. And here there is news, big news. Israeli–Palestinian Arab players are the hot potatoes of Israeli football.
Almost every team in the Israeli premier league has three or four Arab players, and some of them are emerging as local super-stars and heroes. There is an Arab team in the premier league, from Sakhnin in Galilee, and they are doing very well. Still, when they win, it is usually because they are good, when they lose, it is mainly because the Jewish referees do not like them, but is that really so much different than the reactions of Jewish fans when their team, whether local or national lose?
They also blame everybody else but themselves… At any rate, Sakhnin has its share of Jewish players and Jewish fans from neighboring villages. So far so good? Not so fast… this is the Middle East after all. What about Arab players in the Israeli national team? Can they really be totally motivated? And why do not they sing the Hatikva, Israel's national anthem?
Well, I do not ask these questions, but so many do ask them, so as to prove that old prejudices die hard. Just recently an Arab supreme court justice was not joining his fellow Jewish members of the court singing the anthem in an official ceremony, so all hell broke loose, but then PM Netanyahu himself intervened and stated that Arab judges should not be expected to sing the anthem, and some quiet was restored till the next storm in a tea spoon that can erupt any moment.
But football is something else altogether, because football is a serious matter, one of high national prestige, in Israel, as well as in the rest of the Middle East, but not just there. Peace loving people are not advised to go the ''old firm'' derby in Glasgow, or to such games in Istanbul or Athens or Buenos Aires, so the Middle East may not be so bad, but it can be and still is.
James Montague documented the problem in his fascinating and highly recommended When Friday Comes: Football in the War Zone. There he also tells the story of Israelis and Palestinians, but not the story of Ali Khatib, a native of Shfaram in Israel, who moved to play for an Arab team in East Jerusalem, playing in the Palestinian league. Money has its way with professional football players, so Ali went back to Israel to play for an Israeli club in Haifa.
A mini Intifada was about to erupt, as the Palestinian club charged the Israelis with stealing the player, who some experts predict will be good enough to play for the Israeli national team. When asked about that, Hatib confirmed that it is indeed his great dream. No word though about singing the Hatikva, also not from Ahmad Saba, the best scorer in Israel's league, who said that he wishes to play for his country, Israel.
If it all seems to be rosy and cosy, well it isn't really. There is one team in Israel, whose fans swear to prevent Arabs from playing to them. This is Beitar Jerusalem, a team associated with the Likud party. There are those in Israel who believe that if Beitar fans will allow an Arab to play for them, everything else will follow, even final, real peace between Israelis and Palestinians. Well, I will not advise anyone to hold their breath with excitement. Both things are long, very long shots. Even football, it seems, can't bring lasting peace to the troubled area.