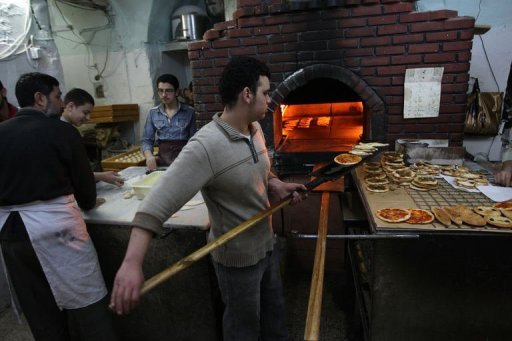 Last updated: 29 March, 2012
Syrians survive on bread as prices skyrocket
Every day, Umm Jihad and her husband must patiently wait in a queue for bread at a Damascus bakery as skyrocketing prices mean they can no longer afford other essential foods.
"Bread is the main element of our meals because the cost of everything else has increased so much," Umm Jihad told AFP, adding: "We are using bread to replace rice," a staple of the Arab diet.
Ordinary citizens of Damascus say they cannot afford to buy fruit and vegetables as they feel the pinch of soaring inflation fuelled by international sanctions on Syria over its regime's crackdown on dissent.
Outraged by its failure to halt the year-long violence, which the United Nations says has killed more than 9,000 people, Western and Arab states have slapped a wide range of punitive measures on Syria.
Rounds of sanctions targeting Syria's banking system and oil exports have dealt a heavy blow to foreign exchange earnings and stoked the inflation rate, which official data says reached 15 percent between June and December.
"I can no longer buy any fruit or vegetables and we now eat bread and cereals," said Khalil, a 48-year-old doorkeeper who had to queue for 90 minutes to buy bread for his family in the Damascus suburb of Kanaker.
Khalil said he has five children and needs "more than four kilograms (8.8 pounds) of bread each day."
So every day he wakes up at dawn and makes the round of Kanaker's three bakeries to stock up on traditional flatbread before he heads to work.
Umm Jihad says she has worked out a plan with her husband.
"He waits in the men's queue and I wait in the women's queue, the one who makes it to the head of the line first buys the bread," she said as she counted how many people stood in front of her at her neighbourhood bakery.
In the teeming working-class neighbourhood of Baramkeh, dozens of seemingly frustrated customers wait their turn to buy bread.
"The worst time is early in the morning, before people go to work, and on the eve of the weekend," said a man who identified himself as Ibrahim.
Bakers admit Syria is facing a bread crisis and that they are struggling to meet demand.
"We are now producing 3,000 tonnes of bread per day. Normally (before the conflict) we produce 2,142 tonnes," Osman Hamed, head of a government-owned bakery, was quoted as saying by the official SANA news agency.
Shamssedin al-Khatib, a banker from the southern province of Daraa, where a popular uprising against the regime erupted last March, says Syria is facing "a bread crisis."
He blames it on the cost of flour which jumped 200 percent in the past year, and a lack of manpower as bakers are stuck at home due to the violence and the presence of military checkpoints everywhere.
Syrians, like most Arabs, relish their "khobz", a flat, pitta-type bread made of slightly leavened wheat flour and baked in brick ovens or electric ones that puff and form a pocket when cooled.
A kilo and a half of the popular bread costs 15 Syrian pounds (20 US cents).
But more well-off Syrians who are coping with inflation prefer a more refined bread, which costs twice as much at bakeries where customers need not queue.
Khalil is not one of them and complains that the cost of everything has gone up, including electricity, gas, public transport.
"This has changed a lot. The situation is bad. I can no longer meet my family's needs," he said.
"Even the tabbouleh is now a dish we make only for special occasions," he said of the everyman Arab's traditional salad which is made of bulghur, chopped tomatoes, onions and parsley, drizzled in olive oil and lemon.
Earlier this month the UN food agency warned that civil unrest is increasing the risk of hunger for 1.4 million people in Syria, which must raise cereal imports by a third to offset a loss in output.
"Continued civil unrest in the Syrian Arab Republic since mid-March 2011 has raised serious concern over the state of food security, particularly for vulnerable groups," said the Food and Agricultural Organisation (FAO).
The agency said last year's cereal production in Syria — estimated at 4.2 million tonnes — was about 10 percent less than the average for the previous five years, following late and erratic rains and widespread civil unrest.
"In several areas, it is reported that civil insecurity prevented farmers to access their farmland during the harvest," it said in mid-March.
"The World Food Programme estimated in 2010 that about 1.4 million food insecure were living in areas which have now become conflict hot spots such as Homs, Hama, rural Damascus, Daraa and Idlib," the FAO said.
"The concern is that they now have become even more vulnerable," it said.
Syria, which relies on food imports for almost half of its domestic use, should import around 4.0 million tonnes of wheat for food use and maize and barley for feed — about 1 million tonnes more than the previous year.