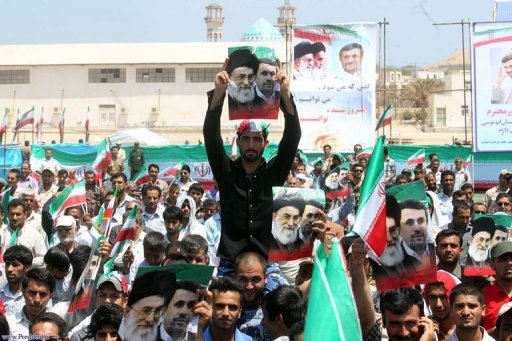 Last updated: 13 April, 2012
Gulf states to meet on Iran-UAE island spat
Foreign ministers of the six Gulf monarchies are to hold a special meeting in Riyadh after Iran's president visited an island in the Gulf claimed by the United Arab Emirates, a UAE official said on Friday.
Wednesday's Gulf Cooperation Council (GCC) meeting in the Saudi capital comes at the request of the UAE, which recalled its envoy to Tehran on Thursday after Mahmoud Ahmadinejad went to the disputed island of Abu Musa, the official said.
Abu Dhabi pulled out envoy Saif Mohammed Abid al-Zaabi "for consultations" a day after denouncing Ahmadinejad's trip as a "flagrant violation of UAE sovereignty over its territories."
Iran called the visit a purely "domestic issue," media reported.
Both Iran and the Emirates claim territorial sovereignty over Abu Musa and two other islands in the southern Gulf.
During his visit on Wednesday, Ahmadinejad insisted historical documents proved "the Persian Gulf is Persian," Iran's official IRNA news agency said.
He said the name "Persian Gulf" derived from the "culture, civilisation and the dominant opinion" of the area.
Iran, then under the rule of the Western-backed shah, gained control of the islands of Abu Musa, Lesser Tunb and Greater Tunb in 1971, as Britain granted independence to its Gulf protectorates and withdrew its forces.
Abu Musa, the only inhabited island of the three, was placed under joint administration in a deal with Sharjah, now part of the UAE.
Abu Dhabi says the Iranians have since taken control of the entire island which controls access to the oil-rich Gulf and has installed an airport and military base there.
The UAE press on Friday slammed Ahmadinejad's visit, with Al-Bayan daily calling it an attempt "to expert domestic problems abroad," while Al-Ittihad denounced "flagrant and inadmissible aggression against UAE sovereignty."
GCC chief Abdullatif al-Zayani on Wednesday condemned Ahmadinejad's visit as "a clear violation of UAE sovereignty" and "not in line with the GCC policy of maintaining good neighbourly relations with Iran."