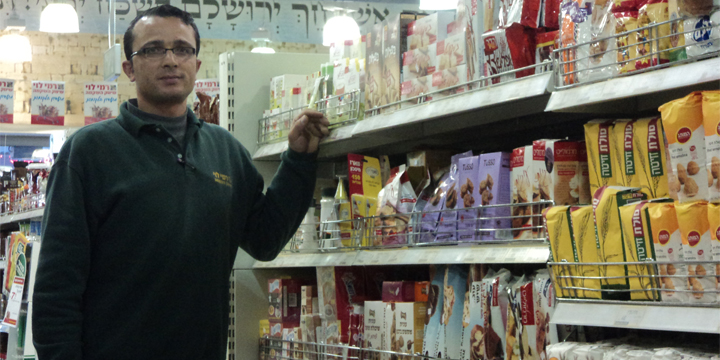 Last updated: 15 April, 2012
The Palestinians who work in settlements
"I have taught mathematics in high school for 8 months and then I left to work here", explained Mountasser, 28, who is putting vegetables and fruits on the shelves at Rami Levy.
Every day, except on Saturday because of Shabbat, Mountasser commutes from Hebron, the largest city in West Bank, to the Israeli supermarket in Gush Eztion, the Jewish settlement located nearly 10 miles away from Hebron.
After the success of the branch in Sha'ar Binyamin and Mishor Adumim, in the northern part of the West Bank, a third market was constructed in the south one and a half year ago.
Like Mountasser, hundreds of Palestinians had stopped working in the domestic market to grab a job opportunity offered by the Israeli supermarket, named after its founder.
In Hebron, approximately 200 people are employed by Rami Levy and the majority are Palestinians, explained Rinat Suleiman, the assistant of the manager, who lives in Israel, on the other side of the wall. "I daily receive about fifteen applications. I don't need to publish a job offer, they come to us", she said. Her first requirement: to have a clean security clearance delivered by the Israeli Civil Administration, meaning to have never been in jail.
The motivation of Mountasser and his workmates is quite clear: the salary is significantly higher at Rami Levy. Monthly wages go from 4,000 shekels (IDS) to 6,000. "In Palestine, I was paid less than 1,000 IDS. How can I live with this salary?", asked Mountasser, who was about to get married. "I saw my pay double when I left the hotel in Bethlehem, where I was working, to clean the department of dairy products here", said Ely, 42. "As a matter of fact, it is always about money. I have to feed my five children", said Sami, a 40 year-old employee who used to be taxi driver in Hebron.
They are certainly well-paid but they can't expect to get a management position. They are filled by Israeli citizen only whereas the unskilled jobs are reserved for the Palestinians.
Rami Levy shows an interesting blend of cultures. Perfectly bilingual, the employees switch easily between Hebrew and Arabic. A short break is guaranteed to the Muslim workers in order to pray. A religious practice they must perform in the parking of the store. "He respects our ritual but don't expect him to give a room to us where we can pray", said Sami.
Here, no one ever launches a politic debate. Both communities work together and carefully avoid talking about the conflict, the colonisation and other burning topics.
Though, working at Rami Levy is politically contentious since it doesn't fit with the aim of the Palestinian Authority (PA) to prevent Palestinians from working in settlements and to make such work illegal. Originally, the PA intended to impose punishments of up to five years imprisonment and financial penalties of some $14,000. This was almost two years ago.
However, about 20,000 Palestinians still work in settlements. Primarily employed to build the settlements, they work in the agricultural sector and services as well.
While the PA views the more than 120 settlements that Israel is building across the occupied West Bank as a key obstacle that stands in the way of the two-state solution, the Palestinian workers consider them job providers.
"Everything you can read in the media about an economic recovery in the West Bank is not true. There is no job in Palestine", said Sami. Despite a decline, from 25% in 2008 to 17% in 2010 according to the Palestinian Bureau of Statistics, the unemployment remains high in the West Bank. Thus, the Palestinians working in settlements lost trust in the capacity of the government led by Prime Minister Salam Fayyad to encourage alternative job-creation.
They don't believe either in the boycott of the settlement-made products. In April 2010, President Mahmoud Abbas signed a law banning the trade of those products.
"How can the PA talk about boycott while the richest businessmen in the West Bank shop at Rami Levy?", asked Omar, a 45 year-old employee. "Some of them get even benefits: they shop here and will resell the goods in their store more expensive", he added.
The Israeli supermarket is well-known to be bargain-basement cheap. It generally retails at lower prices than corner shops and markets owned by Palestinians.
"This week, there is a 30% discount to all the cleaning products", reported Omar. "You can find such discount at Rami levy only", he added.
In addition to the settlers, thousands of Palestinian families routinely shop at Rami Levy. "Come on Thursday evening, after the work and before the holiday, and you will meet them", said Sami.
Modern and clean, Rami Levy offers a wide variety of food and household merchandise. When asked why Rami Levy doesn't sell any Palestinian product, Suleiman answered: "This is a Jewish grocery shop for Jews. We don't sell any product, all must be kosher". However, an extensive selection of goods produced by European or American popular brands is available.
Besides the large variety, the Palestinian customers appreciate the fact that at Rami Levy the expiration date of the products is respected. "That's not always the case in the Palestinian markets", regretted Faten, a 37 year-old housewife.