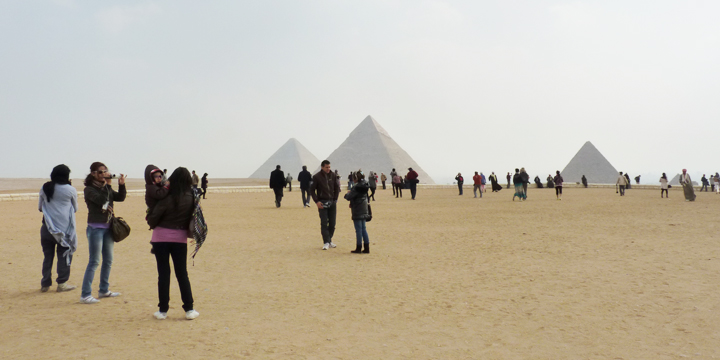 Last updated: 16 April, 2012
Opportunity for great travel experiences as tourism drops in Egypt
Now is the time to visit the pyramids of Giza, cruise the Nile and explore the Valley of Kings without the shopping mall experience and at a lower cost than before, reports Andrea Calabretta.
There is nothing like being alone inside a pyramid to make you feel both terrified and awed. To reach the burial chamber in the third of the Great Pyramids at Giza, you have to scramble down a wooden ramp, the air becoming thinner as you go, then continue along a tunnel-like passage and down a set of stairs. It's dimly lit, warm, and a bit claustrophobic. Eventually, you reach the vaulted tomb, made of solid granite blocks, supporting the massive edifice above. The mummy and the original burial treasures are long gone—but you can still feel the unique sensation of standing within the only remaining wonder of the ancient world. On a recent trip to Egypt, my companion and I were surprised to find we were the only ones there.
Such an experience would never have been possible before the revolution of January 25, 2011. But since then, the tourists have fled, scared off by media reports of political instability and xenophobia. And now, finding yourself alone inside a pyramid is a real possibility. The same might happen (as it did for us) inside a tomb at the Valley of the Kings, or in the Mummy Room at the Egyptian Museum. It wasn't until we saw photographs of past crowds at these same sites that we realized just how grand an opportunity it is to see the ancient ruins without the shopping mall atmosphere.
"Edfu Temple used to be a mosh pit, Valley of the Kings had lines snaking down to its entrance, and it was impossible to get a decent picture of Abu Simbel without someone walking in front of you," said Eric Monkaba, founder of Backpacker Concierge, the personal travel consultancy that arranged our trip. Now, it's possible to linger as long as you like and soak up the sites at a contemplative, leisurely pace. Without the queues, you have time to see more than you would have in the past.
Prices are also lower, and because there are fewer tourists to serve, the service you find in hotels and restaurants may be better too. Those employed in the tourism industry—as many as 1 in 4 Egyptians, according to a tourism professional we spoke to—are eager, and sometimes desperate, to work. Because of the structure of tourism in Egypt, even a couple of tourists can mean work for a bevy of people, from transport coordinators at the airport to hotel porters to camel wranglers. Baksheesh (tipping) is an integral part of the system.
Monkaba says his business has dropped to 40-50% of what it used to be prior to the revolution—due to travelers' fears as well as official government warnings on travel from the US State Department, the British Home Office, and others. We too wondered if it was a safe time to visit Egypt; friends and family warned us not to go. And certainly there are still isolated incidents of disruption. But as Monkaba reminded us, most of them happen far from the tourist sites. And Egypt's tourism industry is highly motivated to keep travelers safe. We saw evidence of this in the armed guards aboard our overnight train from Cairo to Aswan and our Nile River cruise ship, as well as the government-mandated convoy required to travel across open desert to the magnificent temples of Abu Simbel.
Media reports encourage a one-dimensional perception of the situation in a place like post-revolution Egypt. But as Monkaba noted, "Anything can happen anywhere. Last year we had a nuclear meltdown in Japan, riots in London, the Norwegian hostage crisis, and the Russian airport bombing. Aside from Japan, have any travelers been concerned about safety in those destinations? What is working against Egypt is the media's obsession with all things Muslim coupled with the revolution." He urges prospective travelers to critically assess the situation themselves rather than relying on the news.
Indeed, we found it worthwhile to look beyond the headlines. As we talked with locals, we felt truly grateful we hadn't listened to the naysayers who told us to stay home. Our encounters with Egyptians were above all warm; they were friendly, welcoming and eager to talk about the recent political events. "Mubarak, good or bad?" our gregarious driver asked us on the way to Alexandria, as he cracked sunflower seeds with his teeth. Thus began a lengthy and eye-opening dialogue about internal events and American foreign policy. A similar thing happened as we got to chatting with the Nubian crew while sailing the Nile on a felucca at Aswan. And again with a retired teacher in Luxor who spoke with us at length about the political climate and his daughter's choices about wearing the veil. Many of our frank discussions with locals would never have been possible in the oppressive atmosphere prior to the revolution. We felt like eyewitnesses to an incredible moment in history.
Our final night in Cairo, the restaurant where we had dinner in the Zamalek neighborhood was full of foreigners, many of them fellow Americans. They weren't tourists but residents, going about their daily lives in the city they call home. This is another picture of everyday life that is missing from the media portrayals of post-revolution Egypt. Sometimes, when you are anxious about your own safety as a traveler, you forget how many of your countrymen are living and working as normal in the very same place.
Regarding travel, there will always be a reason not to go. I'm thrilled the call of Egypt was stronger.