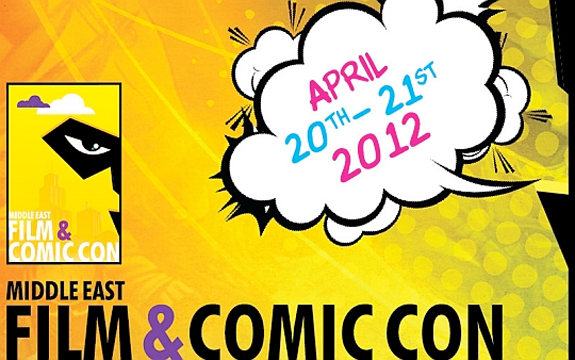 Last updated: 17 April, 2012
The capital of Arab comics: Algiers, Beirut, Cairo or Dubai?
Egyptian graphic novelist and children's-book illustrator Achraf Abd Elazim is enthusiastic about the Arab comics scene. There are three current hubs of comic activity, he says: New York, the Franco-Belge cluster, and Japan.
And "we need to have another one here."
But by "here, Abd Elazim didn't mean the International Comics Festival of Algeria, which celebrated its fourth year in October 2011; or the events surrounding Samandal in Beirut; or the explosive comics creativity in Cairo, with its TokTok and 8×8 and خارج سيطرة and Autostrade.
Abd Elazim mentioned none of these. "I think it will be Dubai."
Cairo Minister of Culture Shaker Abdel Hamid approved — last Tuesday — a plan to raise the profile of the cartooning arts in Egypt. These plans include both a museum and an international festival. But the Egyptian government's plans to support the cartooning arts are still vague. Artist George Bahgouri told Ahram Online, "I suggested that the festival should be done through an art-filled Nile cruise from Luxor to Aswan, then back to Cairo."
Meanwhile, the Emirates is, brick by brick, building its role in the comic arts. The recent Sharjah (November 2011) and Abu Dhabi (March-April 2012) book fairs both had special areas for illustrators and graphic novelists, and Sharjah brought together prominent graphic novelists from Beirut and Cairo. And the first regional Comic Con — the Middle East Film & Comic Con — will be held April 20 and 21 at the Dubai International Marine Club.
Certainly, one Comic Con doth not a comics hub make. US-based graphic novelist Anna Mudd noted, after visiting the Sharjah book fair last November, that ,"Relationships between the larger Comic Cons and the numerous more independently oriented expos and fests in the U.S. is always interesting, and it will certainly be noteworthy to see how these communities develop in the Middle East region."
But Abd Elazim remained firm in his belief that the future Arab comics hub would be Dubai. "The experience is here," he said, indicating Cairo. He also noted that many Egyptian comics artists need to improve their work before they can do graphic novels, saying that they "don't read enough" to produce full-length works.
But he insisted that the money and organization needed to create a comics hub — and thus the central location of the hub — are in the Emirates.