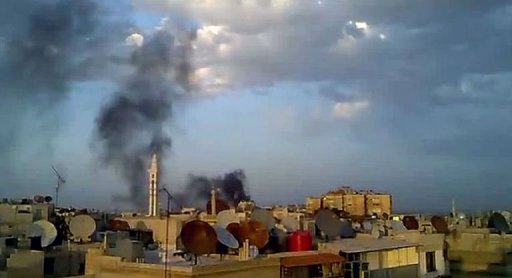 Last updated: 17 April, 2012
Two die in Syria violence after UN monitors land
UN observers acknowledged on Tuesday that they face a tough task to firm up a ceasefire in Syria, as seven civilians were killed in the latest violence on the sixth day of a tenuous truce.
Colonel Ahmed Himmiche, a Moroccan who heads an advance team of six members preparing for the deployment of a 30-person mission, said the observers would move forward one step at a time.
Secretary of State Hillary Clinton said the United States was still "hoping for the best" but was discussing with other powers what to do in the event the peace plan collapses.
Her Russian counterpart, Sergei Lavrov, pointed the finger at the opposition — 11 of 35 people killed in violence on Monday were soldiers — and called on its foreign supporters to press the rebels to honour the hard-won truce.
Four of the seven dead on Tuesday were killed in regime shelling of Idlib, a northwestern province close to the Turkish border, where there is a strong presence of rebel fighters, the Syrian Observatory for Human Rights said.
Shelling killed three more and wounded dozens at Basr al-Harir in southern Daraa province, cradle of the 13-month-old uprising against President Bashar al-Assad's regime, the Britain-based watchdog said.
The rebel districts of Khaldiyeh and Bayyada in the flashpoint central city of Homs also came under renewed shelling, it added.
The opposition Syrian National Council accused the regime of "flagrant violations of the ceasefire" and called on the UN observers to "travel to Idlib and Homs immediately to see first-hand the massacres which the regime is carrying out and has not stopped carrying out."
UN and Arab League envoy Kofi Annan, who brokered the peace plan, was to travel to Qatar for a ministerial meeting of the Arab League on the crisis later on Tuesday, his spokesman said.
Colonel Himmiche said "it's a difficult mission that needs coordination and planning."
"No ceasefire, not even the beginnings of a political process — this mission will be one of the toughest ever undertaken by the United Nations," he added.
Clinton called on Damascus to honour Annan's plan in full, not just the promised ceasefire.
"What the Assad regime needs to do is to make clear that they're going to silence their guns, withdraw their troops and work toward fulfilling the six-point plan," she said.
Complying with the plan also means allowing peaceful demonstrations, releasing political prisoners and allowing a peaceful political transition to begin, Clinton added.
"We want to see a political process begin, but if violence is renewed, the regime reverts to shelling its own people and causing a great deal of death and injury, then we're going to have to get back to planning what our next steps (are)."
French Foreign Minister Alain Juppe said "stronger sanctions" against Damascus must be adopted to "pressure the Syrian regime" and erode its resources.
Juppe has also invited several of his fellow foreign ministers to talks in Paris on Thursday on ways to boost the pressure on Syria, a government source said.
He had met officials from 50 of the countries that have imposed sanctions on Assad's regime
"We know that the Syrian authorities, whose financial reserves have, according to our information, been cut in half, are actively seeking alternative ways to get round these sanctions," he warned.
Damascus ally Moscow took aim, without naming them, at supporters of the rebels, such as Qatar and Saudi Arabia, for what it acknowledged was a "fragile" truce.
"There are countries — there are outside forces – that are not interested in the success of current UN Security Council efforts," Lavrov said.
But in a clear reference to Moscow, a group of 50 countries supporting sanctions against Assad's regime on Tuesday expressed "strong disapproval of any financial or other support, in particular the continuation of arms sales to the Syrian regime."
Russia, which voted in favour of the text after vetoing two previous draft resolutions, will be "substantially" represented in the UN mission, Deputy Foreign Minister Sergei Ryabkov said.
"The specifics of our participation in the observers mission are being worked on right now," Interfax quoted Ryabkov as saying.
The advance team of military observers had arrived in Damascus late on Sunday, and the Local Coordination Committees activist group said that "cars carrying the observers arrived in Daraa accompanied by army vehicles."
A spike in deadly violence forced the Arab League to end its own Syrian monitoring mission in late January, barely a month after sending observers.
Seeking to take greater advantage of the new observer mission, anti-regime activists have advised fellow citizens to "speak the truth, that's what freedom is about" when they meet the UN monitors.
Meanwhile, Syria's Foreign Minister Walid Muallem will visit China on Wednesday, Beijing announced, to showcase efforts taken by Damascus to execute the UN ceasefire.