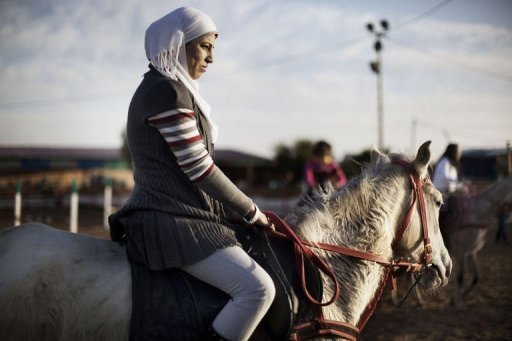 Last updated: 18 April, 2012
Gaza horse riders have to jump unusual hurdles
Horse riding has become a popular hobby in the Gaza Strip but local Palestinians face constant hurdles — from a conservative society to Israel's blockade on the territory — to practise the sport on their home turf.
The Al-Faisal equestrian club, on the seafront in Gaza City, attracts around 50 riders a day, according to Samir Salama Saad, director of the "Beautiful Life" society which bought the club several months ago.
Founded in 2003, the club now attracts both male and female equestrians ranging in age from eight to 40 years, Saad said.
But the club, which occupies some 10 dunams of land — around 100 hectares (247 acres) — has had to resort to unusual methods to obtain the 60 horses it owns, smuggling them in through tunnels from Egypt.
"We don't have medicine because of the blockade, and this affects the horses we have locally, so their numbers are constantly diminishing because of deaths," Saad told AFP.
To make up the numbers, horses are brought in through the tunnels dug under Gaza's border with Egypt, but the process is dangerous and often leaves the animals with injuries and psychological problems.
Israel imposed the blockade in June 2006 after the capture of an Israeli soldier. The restrictions were tightened when the Islamist Hamas group seized control of Gaza a year later.
Israel defends the blockade, saying it is necessary to prevent weapons smuggling, but the Palestinians call it collective punishment.
Despite the restrictions, Saad runs an equestrian school at the club, with five trainers, including one qualified at the international level, who provide lessons and organise competitions.
There's plenty of interest, but Saad acknowledges that the lessons remain out of the reach of most people in impoverished Gaza, where unemployment is around 45 percent and much of the population is dependent on foreign aid.
Still, he said, "the prices are 20 percent less than those in neighbouring countries," and they have come down in recent years as poverty in Gaza has continued to worsen.
Before the Israeli blockade was imposed in 2006, the club charged around 300 shekels ($80, 61 euros) for 15 lessons, according to 18-year-old Ola Abu Safiya who has been riding for five years.
"Now they don't take more than 150 shekels because they're taking into account the economic conditions in Gaza," she said.
Abu Safiya is a psychology student but she dreams of one day teaching horse riding herself.
"It's been my favourite hobby since my father took me riding for the first time," she said.
She finds the sport liberating — "there's no difference between boys and girls when it comes to horse riding," she said.
Hanan Abu Nada, a 28-year-old lawyer and a mother of two, said she had to overcome some local scepticism when she took up the sport.
"My father and mother encouraged me to ride. We had a small stable and my father was passionate about it. He wanted all his children to be excellent riders."
"People said 'You're veiled, how can you ride a horse? It's impossible'," she said. "But I insisted on the idea that a veiled girl is like any other girl who wants to enjoy a pastime."
"They shouldn't be criticising. On the contrary, Palestinians should be proud of us," she added.
Abu Nada takes lessons with Omar al-Mamluk, the club's only international-level trainer, and aspires to one day participate in global competitions "representing the country of Palestine".
But Mamluk says opportunities to compete have been sharply curtailed by the blockade and the division between the Gaza Strip and West Bank because of tensions between rival Palestinian movements Fatah and Hamas.
The division "has greatly affected horse riding and stopped us from participating abroad, which had allowed us to reach the level of our Arab brothers," he said.
"The Palestinian Equestrian Federation works in the West Bank and Ramallah, but because of the division we have been excluded, even though we have horses for show jumping and racing, as well as riders."
"If the division were to end, we would be able to cooperate with our brothers in the West Bank," he said.
"For now, all our competitions are local," Saad added.