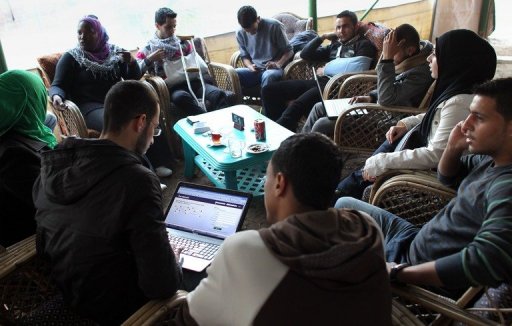 Last updated: 21 April, 2012
Hamas-Fatah divide is affecting local journalism
The political fracturing in Gaza and the West Bank, with Hamas and Fatah competing for power, has spread to other institutions – including journalism. This divide has made it extremely difficult for local journalists to report local news and Palestinians are now increasingly looking for their news elsewhere.
The latest institution to splinter was the Palestinian Journalists Syndicate (PJS), an independent organization established to protect journalistic freedom and ensure objective news for Palestinians locally. Although Hamas took political power in Gaza in 2007, the union had continued to defend all journalists – whether they were loyal to Hamas or Fatah. That policy was in keeping with the Union's code of ethics, defining its role as the defender of all media "independent from all sources, custody, censorship, directing, containment and deviance" as an affiliate of the International Federation of Journalists (IFJ). But that changed on March 18, when Hamas held elections in Gaza for the Union's leadership there. No Fatah candidates were allowed.
This was the first official split in the syndicate, and Palestinian journalism, between Hamas and Fatah since Hamas took over the Gaza strip in 2007.
Journalists say because of this divide they fear they will have to heavily censor their work not to suffer the wrath of either party, and therefore must pick a side when reporting. "The result is self-censorship really," said Mohamed Omer, a journalist from Gaza and founder of the Rafah blog, when journalists are reporting from the area that they do not have affiliation membership. "The journalists censor themselves because there is this constant fear of being attacked or being arrested for reporting on something and these are based on very easy accusations."
Yet this divide will cause the syndicate to fail in doing it's declared job and therefore will regulate the information reported by local Palestinian journalists as a result. "It's going to limit freedom of expression," said Omer. "If reconciliation is not possible, it makes it impossible for them to do their role as a journalists."
Palestinians have already felt this effect and do not rely on local journalism to be informed on happenings in Palestine but rather look towards new media for their news. "More and more youth are using the Internet and especially Facebook to get their local news," said Hani Masri, director of the Palestinian Media Center. "They do this because there is no way to censor it."
According to the Internet World Stats, as of December 2011 almost 60 percent of Palestinians have Internet access and about 30 percent of Palestinians use Facebook. This makes Palestine one of the highest users of the Internet of the countries in the Middle East, relying much less on traditional media. Not only is usage one of the highest in the region but it has been on the rise. The Palestinian Center Bureau of Statistics (PCBS) reported a significant seven percent increase in Internet users in the Palestinian territories from 2009 to 2011.
As Internet usage to access uncensored information rises in Gaza and the West Bank the use of traditional media is on the decline. "The total distribution of newspapers in the West Bank and Gaza does not exceed 30,000 total," said Masri, which is a result of Palestinians not trusting media used by local journalists. "Therefore it does not have wide distribution."
He added that when it comes to coverage of the Israeli-Palestinian conflict, local news agencies are unified in their reporting because the interests of Hamas and Fatah are the same, but in regards to local news Palestinians refer to non-local news agencies such as Al Arabiya and Al Jazeera since they are not as subject to the rules dictated by local politics.
Based on a survey by Palestinian Center for Policy and Survey Research in Dec 2011, about 50 percent of Palestinians watch Al Jazeera and almost 15 percent watch Al Arabiya to receive their news while less than ten percent watch Hamas' Al Aqsa and under 14 percent watch Fatah's Palestine TV.
The one form of traditional and local news that is popular amongst Palestinians is local radio. "In the West Bank there are at least 45 local radio stations, and in Gaza there are about seven to ten," said Wafa' Abdel Rahman, from a group of women journalists called Filastiniyat. And even though some of the stations from Gaza are controlled by Hamas, Palestinians are able to hear unfiltered voices.
Despite the lack of reliance of Palestinians on local media, small groups of local journalists such as Abdel Rahman have banded together to confront the PJS board. They seek to make the Syndicate serve its original purpose of being an independent entity to protect journalists, although they have little hope for a free media society.
"The majority of our journalists are affiliated with political parties," said Abdel Rahman during her trip to Gaza with a group of independent journalists to confront the PJS on March 6. "We're not asking to depoliticize journalism… but when it comes to the Syndicate it should be independent and sufficient."
Both Hamas and Fatah both say that they are open to reconciliation over the Syndicate and blame one another for preventing, said Abdel Rahman, yet when it comes to taking action neither side delivers. "I embarrassed them by asking them to take a real step… by asking them to give the key to the Syndicate in Gaza," said Abdel Rahman in reference to the Syndicate office that a group affiliated with Hamas called the Journalists Block took over in mid-October of last year. "This will show that it's not only talk but action. They refused."
It is a step in the right direction for journalists to unite and confront the Syndicate, said Hani Masri, but it will take a long time. "It won't happen quickly, it is difficult and complex. There has to be a new power."
For the time being, young journalists like Omer from Gaza have little faith in the outcomes of the Syndicate and don't pay much attention to its developments. "We got tired of following that because it doesn't make sense at all," said Omer. There are elections, there aren't' elections. Whatever happens it's the factional media that wins at the end. Independents are never heard."
For now, it seems that Palestinians will have to continue relying on new media such as Facebook for uncensored, local news.