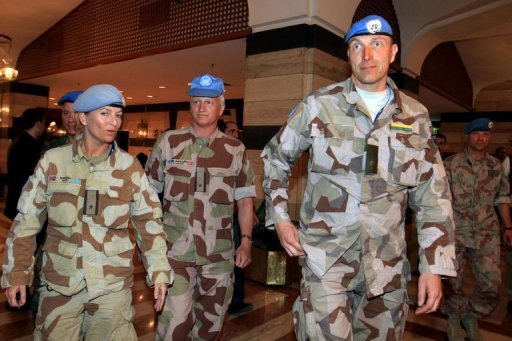 Last updated: 24 April, 2012
Syria car bomb hits capital amid ceasefire
A car bomb rocked Damascus on Tuesday a day after nearly 60 were killed across Syria, as international peace envoy Kofi Annan said violence levels were "unacceptable" 12 days into a promised truce.
Three people were wounded when the blast went off in the Marjeh district of the capital, Syrian state television reported, blaming "terrorists", the government term for rebels.
"An armed terrorist group detonated the car bomb near the Yelbugha complex in Marjeh, wounding three people and causing damage to nearby buildings," it said.
State news agency SANA said the bomb was placed under the car of an unsuspecting man, who was among those hurt.
The blast came as UN observers returned to the city of Hama's Arbaeen neighbourhood, which activists said suffered a "massacre" on Monday at the hands of regime troops.
The Syrian Observatory for Human Rights said 31 civilians were killed in the flashpoint central city, out of a total of 59 people, including five soldiers, killed in violence nationwide.
A Damascus-based rights group said that among those killed in Hama were nine activists "summarily executed" a day after they had met the UN observers on a previous visit.
Activist Abu Ghazi al-Hamwi said the UN team met "members of the martyrs' families. But they did not comply with the families' requests to visit the mass graves where yesterday's dead had been buried."
Video footage posted online by activists showed a street in Arbaeen with large pools of blood and women weeping. Two young girls were shown in one video crying and holding up the picture of a man.
"This is my father," cries one girl.
The Observatory said two people also died on Tuesday in Damascus and its suburbs, one of them an intelligence officer shot in the neighbourhood of Barzeh.
The persistent bloodshed has sparked growing criticism from opposition activists of the fledgling UN mission, which now numbers 11 observers out of a planned initial deployment of 30.
"The situation in Syria continues to be unacceptable," Annan told a closed-door meeting of the UN Security Council.
The UN-Arab League envoy said "arrangements are necessary for the rapid deployment of the observer mission, as it may have a positive impact on the situation," diplomats told AFP.
Despite scepticism over the UN mission, UN chief Ban Ki-moon on Monday gave the go-ahead for the deployment of an enlarged team of 300 ceasefire monitors from next week.
Ban insisted that the Assad government ensure the protection of the unarmed observers and allow them to travel freely throughout the country.
Annan's spokesman Ahmad Fawzi acknowledged the truce remained "extremely fragile" and urged President Bashar al-Assad's government to fully implement its end of the deal.
"This means withdrawal of all heavy armoury from population centres," he told UN broadcaster UNTV.
"They are claiming that this has happened. Satellite imagery however and credible reports show that this has not fully happened, so this is unacceptable."
Fawzi said UN observers on the ground had entered areas like Hama and the battered city of Homs to its south and found that when they are there "the guns are silent". But when they leave, he said, "credible reports" indicate that fire resumes.
Critics have said the UN mission was simply allowing the regime to buy time as it presses its crackdown against what began as a popular revolt but has turned into an insurgency.
The opposition Syrian National Council called on Tuesday for Arab foreign ministers who are due to meet on Thursday to back a return to the UN Security Council for enforcement action against the regime.
"The regime is not respecting its commitments, so we must got to the Security Council to get a vote on a Chapter Seven resolution to set up secure zones in the country and be able to deliver humanitarian aid," its leader Burhan Ghaliun told reporters after talks with Egyptian leaders in Cairo.
A Chapter Seven resolution, which can be imposed by the Security Council if member states think peace is threatened by an act of aggression, authorises foreign powers to take measures — including military options.
After talks with Arab and Western foreign ministers in Paris on Thursday, US Secretary of State Hillary Clinton said Chapter Seven measures could involve "travel, financial sanctions, an arms embargo, and the pressure that will give us on the regime to push for compliance with Kofi Annan's six-point plan".
But Clinton admitted that Damascus ally Moscow — which has a veto on the Security Council — would probably not allow such a motion to pass, and said in the meantime states would have to seek further diplomatic and economic sanctions.