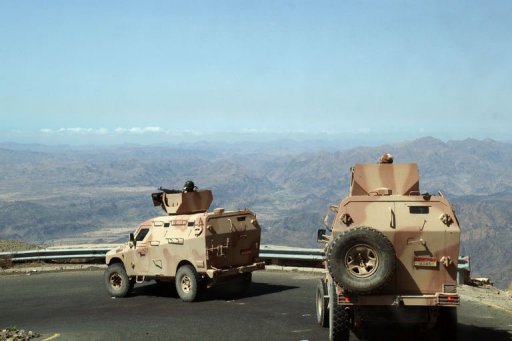 Last updated: 30 April, 2012
18 Al-Qaeda militants killed in Yemen fighting
Fierce clashes killed at least 21 people, including 18 Al-Qaeda militants, on Monday near the southern Yemeni town of Loder, which Al-Qaeda is trying to capture, a local official said.
The other dead were an army officer and two tribal volunteers aiding the military.
The source said the A-Qaeda militants were forced to retreat in the direction of Amiin, 12 kilometres (7.5 miles) south of Loder.
Witnesses said the fighting lasted for several hours, and that air force planes had bombed militant positions in the mountains southeast of Loder, from which columns of smoke could be seen rising.
A tank in the hands of the militants, as well as two vehicles mounted with machineguns and ammunition stocks were destroyed, other sources said.
Al-Qaeda seized Loder in August 2010, but the army eventually drove it out.
Loder lies 150 kilometres northeast of Zinjibar, capital of Abyan province, which was seized last May by the Partisans of Sharia (Islamic law), an affiliate of Al-Qaeda in the Arabic Peninsula..