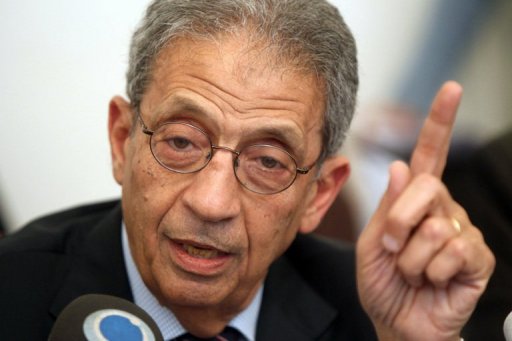 Last updated: 2 May, 2012
Egypt's Amr Mussa battles Mubarak-era stigma in poll
Amr Mussa is a frontrunner in Egypt's presidential election but the celebrated statesman who served as Hosni Mubarak's foreign minister has to convince sceptics he will not revive the dictator's era.
In Rawafi al-Qusair, one of those dusty southern villages the government appears to have forgotten amid patchwork fields of clover and wheat, Mussa tells peasants at a campaign rally to choose carefully.
"Egypt is in a state of tumult. That's why I ask everyone to choose with extreme caution," he said in a fiery stump speech, dressed down — by his usual standards — in a pinstripe jacket and blue shirt
Mussa left Mubarak's government in 2001 and had been Arab League chief for a decade when a nationwide uprising toppled the strongman in February 2011.
During the uprising, Mussa announced it was time for a "transition from one era to the other" and visited the protesters in Cairo's Tahrir Square.
But the decade he served as Mubarak's foreign minister has come back to haunt him, with his critics labelling him a "felool" – a nickname for remnants of Mubarak's regime, taken from the classical Arabic term for a broken sword's edge.
Others say Mussa, who was never a member of Mubarak's now dissolved ruling party, is the only candidate with the credentials to lead.
Mussa, 75, dismisses his main rivals, Islamists, as novices.
"The feeling in the country is growing that we do not want to be an experiment or a research centre for a new president who knows nothing about the state," he told AFP in an interview aboard his campaign bus as it careered from one crumbling village to the next in the impoverished south.
He has brought together a team of experts to write a thorough 80-page programme he says he can realistically implement. His campaign team is a mix of former diplomats and eager young liberals who took part in anti-Mubarak protests.
"It's not something unreasonable or something impossible when I say that there are a lot of hospitals that have been built but remain closed because of certain trivial amounts of money or bureaucracy," Mussa said.
"I really believe what the American constitution stipulated about the responsibility of the government to guarantee the pursuit of happiness," he said.
Ever the cautious diplomat, Mussa refuses to directly criticise the ruling military generals who took control after Mubarak's ouster but vow they will hand power to an elected president by the end of June.
Mussa dismisses suggestions that the military, which has produced every president since the 1952 army coup against King Farouq, would remain in control from behind the scenes.
"When I am president, I'll be president in the real sense of the word, whatever that means," he told AFP. Like other candidates, he is not certain about his job description under a yet to be finished new constitution.
The Muslim Brotherhood, which dominates senate and parliament which will appoint the constituent assembly, wants a parliamentary system in the new charter.
The Islamists are running a candidate in the election, the head of the Brotherhood's political arm Mohammed Mursi. Mussa's main rival, judging by polls, is the moderate Islamist, Abdel Moneim Abul Fotouh.
Mussa, who insists on performing all five Muslim daily prayers even on his campaign bus, is the most secular of the leading candidates in a country where the large Coptic Christian minority and liberals fear Islamists' growing power.
"The reference point for Egypt should be national, and that's it," he told a Coptic bishop in the southern city of Sohag, in an apparent reference to Islamist calls for a state with an "Islamic reference."
He was a wildly popular foreign minister, and Mubarak was rumoured to have sacked him because he felt overshadowed by the diplomat.
Mussa told AFP that his popularity "to so many people in Egypt and the region was not comfortable (for Mubarak). I knew that."
He also objected to the way in which Israel conducted its negotiations with the Palestinians.
"At the same time I was of the opinion that our policy towards Israel and the Palestinians should change into an active drive in favour of the Palestinians by Egypt," he said.
Differences between him and Mubarak came out in the open during a November 2000 meeting in the presence of then US president Bill Clinton and Palestinian leader Yasser Arafat, he said.
"The key point in the Arab-Israeli conflict is the security of Israel, and everything else should be measured by this. So I disapproved of that from minute one. I said no, we are staking everything on the decision of the government of Israel."
Mussa kept up his hawkish stance on Israel as Arab League chief, and now says that Egypt's Camp David peace accord with Israel "is in the drawer" when asked by voters at rallies.
He believes that Egypt should keep its treaty with Israel, but that points agreed upon back then, such as Palestinian autonomy, have been overtaken by subsequent agreements on creating a Palestinian state.
As president, he would be expected to take a harder line on Israel than Mubarak. "He has a typical pan-Arab nationalist view," said a veteran diplomat who served under him when he was foreign minister.
But "he is a world class diplomat," he added.