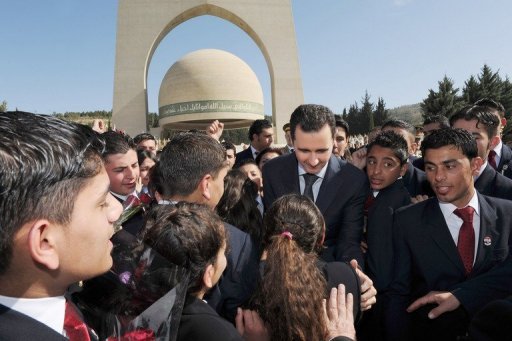 Last updated: 6 May, 2012
Deadly Syrian unrest on eve of vote
Syria's authorities and the opposition traded accusations Sunday over who was behind blasts that rocked Damascus and Aleppo, on the eve of parliamentary polls designed to boost the regime's legitimacy.
Overnight violence in Damascus province killed three people and six others died on Sunday, a rights watchdog said, as authorities made final preparations for a vote they say is crucial for building "the new Syria" but which the opposition has already dismissed as a "farce."
Five government troops, including an officer, were also killed in clashes with rebels in the southern Daraa province, the Syrian Observatory for Human Rights reported.
Information Minister Adnan Mahmud said that voting on Monday was an act of defiance.
"By taking part in the election, Syrians are defying the campaign of terrorism and aggression led by international and regional parties implicated in a terrorist war against our country," he said.
The opposition blamed the regime for two bomb blasts Saturday in Damascus and one in Aleppo, where the Observatory said at least five people were killed when an explosion hit a car wash as a bus was passing by.
"It is the regime that caused these mysterious explosions," said Omar Idlib, spokesman for the Local Coordination Committees (LCC) which organises protests. He also called for an international probe.
State media said a 10-year-old boy was among three people killed in the Aleppo blasts and blamed "terrorists" linked to the opposition for carrying out Saturday's attacks in a bid to sow instability ahead of the vote.
On Sunday three people, including an army deserter, were killed in the central flashpoint city of Homs by gunfire, while a fourth man was shot dead during a raid in a Damascus neighbourhood, the Observatory said.
A civilian and an army deserter were also killed in Idlib province, while in the same region six bodies were found in a mass grave, the watchdog added.
Overnight a young man was gunned down by regime troops in the town of Al-Tal, while an explosion killed two in Daf al-Shouk area, also in Damascus province, the Britain-based Observatory said.
The young man's funeral in Al-Tal turned into an angry anti-regime protest with thousands taking to the streets demanding the ouster of President Bashar al-Assad, the group said.
Also on Sunday, UN observers in Syria to monitor a tenuous ceasefire in place since April 12 visited Zabadani in the Damascus province where they met opposition activists, LCC activist Fares Mohammad told AFP.
The army, meanwhile, pursued its attacks on rebel positions and shelled the village of Arida in Homs province, wounding several people and destroying some homes, the Observatory said.
Troops also carried out raids and made arrests in the town of Al-Quriya in the eastern province of Deir Ezzor.
Monday's vote, against a backdrop of unrest which the Observatory says has killed more than 11,000 people since March last year, will do little to change the autocratic country, according to regime critics and analysts.
The vote, initially scheduled for September 2011, was postponed to May 7 this year after Assad announced the launch of a reform process.
Bashar al-Haraki, a member of the Syrian National Council, the principal opposition coalition, has labelled the elections a "farce which can be added to the regime's masquerade."
Shadi Hamid, director of research at the Brookings Doha Centre, told AFP the elections were "cosmetic" and "no one in the international community takes these elections seriously."
Washington has described them as "ridiculous."
Security and logistical concerns notwithstanding, the credibility of the vote has also been hit by the refusal of the main opposition forces to participate.
Monday's election will be the first time Syria has held multi-party elections since the adoption in February by referendum of a new constitution that ended the five-decade stranglehold on power of the ruling Baath party.
Nine parties have been created, and seven have candidates vying for a parliamentary seat. Pro-regime parties led by the Baath are represented under a coalition called the National Progressive Front.
A total of 7,195 candidates have registered to stand for the 250 seats, state news agency SANA said.
But experts believe little will change politically in Syria, where a tenuous UN-backed ceasefire has failed to take hold.
"The elections are a step in a void and will not lead to any change in the political landscape and security of Syria," Oraib al-Rantawi, director of the Amman-based Al-Quds Centre for Political Studies, told AFP.
Meanwhile on Sunday Turkish Prime Minister Recep Tayyip Erdogan made a landmark visit to a Syrian refugee camp inside Turkey on Sunday and vowed to keep his country's borders open to refugees fleeing the Syria violence.
"Your victory is not far," Erdogan told the crowds at the Kilis camp, home to some 10,000 of the 23,000 Syrians who have sought refuge in Turkey.
"Bashar is losing blood each passing day," he said of the Syrian president. "We are on the side of Syrian people but we are never on the side of the Bashar administration."