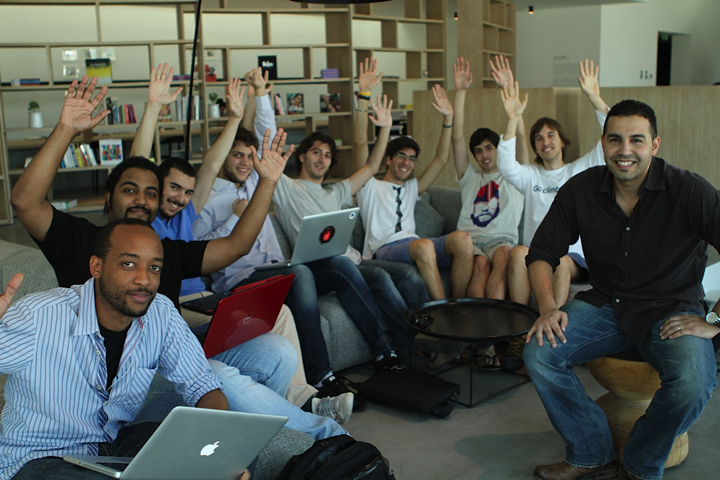 Last updated: 10 May, 2012
SeedStartup: Riding the wave of Entrepreneurship in the Middle East
In the span of a few years the Middle East has seen an upsurge in seed startup venture capital (VC) funds. Hundreds of entrepreneurs are sending in applications hoping to attract their attention. Competition is fierce but innovative ideas are gaining momentum as funds are investing in exciting new ventures.
"Entrepreneurship is on the rise. Especially in the last three years we're really starting to see a huge upswing in entrepreneurial enthusiasm. You read about it more in the media, and also more and more VC funds are being launched. It's a very encouraging thing and it's also a great time to be an entrepreneur as well as an investor in the Middle East," said Rony El-Nashar, founder and managing partner of SeedStartup in the UAE.
After working for Khalifa Fund which focused on funding entrepreneurship for Emiratis, who comprise just 10 percent of the total population in the UAE, Rony realized that for expats (the other 90 percent) it was much more difficult to get seed money.
"I thought that was a big source of innovation. You're talking about people coming in from all around the world, living here, so its a fantastic collection of brain power and opportunity for creation, so I launched SeedStartup, and at the same time I was reading about institutions in the US like Y Combinator and TechStars. Those really provided the inspiration for SeedStartup and I kept thinking why is there nothing like this here in the UAE. This is an excellent business model and it's very much needed," said Rony.
He capitalized on this huge opportunity founding SeedStartup in the summer of 2011, focusing on Internet and mobile based businesses, and investing up to $25000 in return for a 10 percent equity stake in each business. The seed fund brings entrepreneurs to Dubai for a three month mentorship program to help them grow from a prototype to a fundable business so that they are able to attract additional follow on investment from later stage VCs or Angels.
Rony believes that SeedStartup differentiates itself from similar funds because it is truly a global program open to anyone in the world whereas many other seed funds focus on a particular country. It also has a very impressive mentorship network which includes successful entrepreneurs in the digital field, angel investors and VCs, and domain experts that have specific skills important for early stage startups.
The model seems to be working because the three recent companies they have funded have all received investor interest, two of which have firm offers.
Exa Technologies (exa.io), a Bahrain based company, is among them. It has made a process called rendering much quicker by making it accessible in a cloud online. When graphic design companies need to turn cartoon frames into a movie they go through the process of rendering which can take days, weeks, and even months. The entrepreneurs behind Exa technologies have built servers that allow clients to upload their file to an Exa server which is then rendered in the cloud 112 times faster than a typical server at a graphic design company. The time saving propensity of this technology is huge and it has great potential to increase the efficiency of animation companies in the future.
Metwit, another company funded by SeedStartup, has developed a crowd sourced application which allows people to tag the weather in their specific location and aggregates data from Twitter. In cities that have microclimates or frequent rapid weather changes, it allows users to get a localized and more accurate reading of the weather than they would have if they relied on the few weather stations in the city.
The third venture, Rasello, is based in Tanzania, and uses SMS broadcasting for small businesses in Africa which relays promotions to consumers who chose to follow their business. The businesses buy bulk SMS from Rasello. The idea is working well as Internet penetration is low in Africa whereas cell phone penetration is very high. The company has already begun generating revenue.
With such innovative companies sprouting from their first cycle at a seed venture fund, it is not surprising that Rony is optimistic about entrepreneurship in the Middle East. Though the company is global in nature, fifty percent of the applications were from the region.
"I'm seeing an increase in digital interest both in terms of entrepreneurs and investors . Almost all the VCs being launched now tend to focus on technology. That and media," he said.
Rony does admit that there is still room for improvement in the Middle East. Fundraising is not that easy because the concept of venture capital and technology investing is relatively new to the region. Many institutional investors are more comfortable investing in traditional sectors such as real estate and advanced stage companies and are used to large private equity transactions. Though interest is growing it is still difficult for tech VC firms to raise funds for early stage companies.
Red tape is also a large barrier facing entrepreneurs in the region. In the UAE, for example, an expat can own 100 percent of a business if it is in a free zone, which costs $10,000 per year. Though there are cheap free zones that don't require renting office space, the cost of virtual office services and corporation fees over a year amount to about the same. This is a huge cost for tech startups as office space isn't necessary in most cases. In comparison, a business in the US can be incorporated for only $80.
Despite these barriers Rony retains an optimistic outlook on the Middle East.
"I'm bullish on the entrepreneurial ecosystem in the Middle East. We're seeing very positive changes. More and more funds, more and more entrepreneurs, so I think its an exciting time to be in this field and I think the future is going to look bright," he said.
Hina Mahmood is the Business Editor for Your Middle East based in San Francisco.