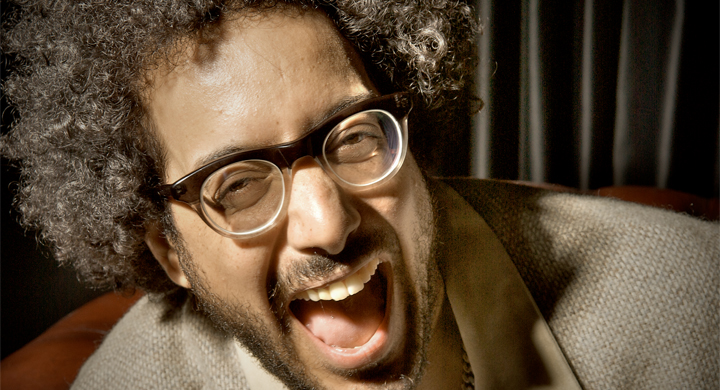 Last updated: 13 May, 2012
Ravid Kahalani's Yemen Blues: Songs from the Brotherhood of Man
Jews have lived in Yemen for more than 3500 years, according to some sources. "Yemenite Jews have been living in Yemen since ever anyone can remember," says Ravid Kahalani, singer and founder of the marvelous group "Yemen Blues."
Yemenite Jews, or Teman, were living there as part of Yemenite culture, he says. "Yemenite Jews are Arabic Jews and Yemenite Muslims are Arab Muslims. Yemenite Muslims are no more Yemenites than the Yemenite Jews, they are all Arabs from an Arab country."
Ravid Kahalani is Israeli, but his family originates from Yemen. Now the singer and composer, whom National Geographic describes as "ridiculously charismatic", has founded a band that draws on the centuries-old traditions of Yemenite Synagogue chants and traditional Arabic music. "Traditions of liturgic chants are very strict and they're handed down from father to son for thousands of years," Kahalani told Your Middle East.
For his project "Yemen Blues", Kahalani daringly added jazz, funk, soul, even west African Griot music to centuries-old traditions from the Arab peninsula. And the result sounds like nothing that was ever heard before. The various diverging musical styles blend so effortlessly and with so much ease, it's almost provocative.
As much as Kahalani uses different musical styles he also uninhibitedly mixes the languages of his lyrics. "I am using any language that sounds good with the melody, but the main languages are Yemenite Arabic as my origin language, and Hebrew, my mother tongue." He also uses Moroccan and French Creole, and will be using even more languages on the next album which is already being worked on. It is the true spirit of cosmopolitan mind that Kahalani and Yemen Blues draw from.
As much as Israeli politics is currently struggling with the pluralist makeup of the country's society, its music scene is all the more celebrating the multitude of cultures informing the country's social and cultural makeup. Artists such as Idan Raichel and Yasmin Levy and the notorious Gilad Atzmon explore Jewish musical cultures stretching to Spain, the Balkans, Turkey, the Levant, and North Africa, often with Israeli and Palestinian musicians working side by side.
"There are so many amazing musicians in Israel that combine all kinds of styles together, that is the real beauty of music", Kahalani explains enthusiastically. "You can see these days that we are all influenced by each other much more than we know."
In some pieces, the music exudes a contagious kind of happiness that sounds as though it is rooted in the spirit human companionship and the joy of making music as friends. And the project started out as friends making music, as Kahalani explains. A couple of years ago, Kahalnia joined forces with Omer Avital, a well known bass player and compositor in Israel, and now they form a supergroup of top musicians from New York, Israel and Uruguay.
The confidence of this music has also to do with the musical sophistication of the players, with their solid musical craftsmanship that lends self-assurance, and also the almost stupendous musical knowledge of the group that stretches from Yemenite synagogues over the Berber cultures of North Africa to the West African Gnawa from Senegal, Ghana and Mali and even further to New Orleans, the Delta Blues and Blue Note Jazz and the Soul of Stax and Motown.
"I would do everything to make sure people can feel the soul feeling of my singing and can open their heart to it," Kahalani says. "In the end our music is a very funky and a very happy music."
"It doesn't matter where you come from, your language is my language", Kahalani sings in ", and this is also, fittingly, the motto of the album and the group. Despite the fact that Yemen Blues unites so many different musical styles, the sound of the group is distinct and unmistakable. In this act of musical genius, Kahalani and his group created real "world music", as in "world literature" – music that transcends national, ethnic and religious boundaries, celebrating the "brotherhood of man".