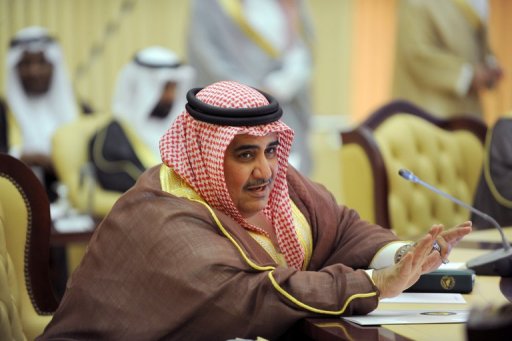 Last updated: 17 May, 2012
Bahrain warns Iran against meddling in its affairs
Bahrain on Thursday warned Iran to stop interfering in its internal affairs while affirming its support for a union between the six nations of the Gulf Cooperation Council.
Foreign Minister Sheikh Khaled bin Ahmad Al-Khalifa made the remarks a day after Iran called on its people to protest on Friday against the union that Gulf officials say will start with Bahrain and Saudi Arabia.
"The union… is a demand by the people of the GCC," Sheikh Khaled said according to the official BNA news agency, adding that Bahrain "rejects Iranian interference in the affairs of the kingdom."
The minister said that "every once in a while, we hear Iranian claims that Bahrain is the 14th governorate" of the Islamic republic and that Bahrainis want to "return to the motherland."
"This meddling and this Iranian stance is not just directed against Bahrain, but against everybody" in the Gulf bloc.
Sheikh Khaled accused Iran of stoking tensions with its Arab neighbours, warning the Islamic republic would suffer the "consequences of these interventions."
But Iran hit back Thursday, with foreign ministry spokesman Ramin Mehmanparast saying "the proposed proposed union or annexation of Bahrain to Saudi Arabia" would lead to the "disappearance" of the tiny Gulf archipelago.
"It seems that internal problems — the repression by Bahraini leaders and the military of peaceful demonstrations and Saudi military intervention — have created an inappropriate situation.
"We advise Bahrain's leaders to change their ways and not aggravate the situation with such plans," he added.
Iran's Islamic Propagation Coordination Council, which organises state-backed protests, has urged citizens to protest on Friday against what they called "the American plan to annex Bahrain to Saudi Arabia and express their anger against the lackey regimes of Al-Khalifa and Al-Saud."
Saudi Arabia had earlier told Iran to keep out of its relations with Bahrain, a Shiite-majority but Sunni-ruled kingdom where dozens of people, mostly Shiites, have been killed in violence since February 2011.
Bahrain's Shiite-led opposition meanwhile has called for protests on Friday against the union with Saudi Arabia.
Tensions have escalated between Iran and its Gulf Arab neighbours since a Saudi-led Gulf force rolled into Sunni-ruled Bahrain in March 2011 to boost the kingdom's security forces which then crushed a month-old Shiite-led uprising against the regime.
Shiite-dominated Iran has repeatedly voiced support for the protests in Bahrain and strongly condemned the deployment of Saudi-led forces.