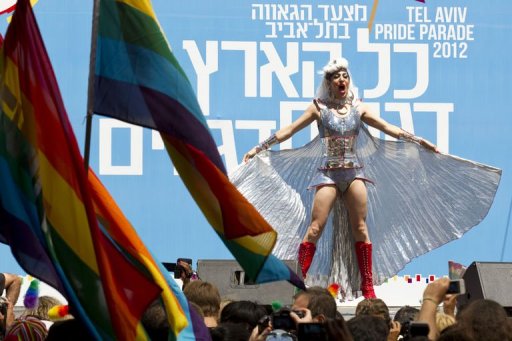 Last updated: 8 June, 2012
Thousands turn out for Tel Aviv gay pride parade
Tens of thousands of people turned out on Friday for Israel's annual gay pride parade, dancing in the streets of Tel Aviv and waving rainbow-coloured flags.
Police spokesman Micky Rosenfeld said about 30,000 people took part in the parade, adding that hundreds of law enforcement officers were deployed. No serious incidents were reported.
Drag queens and civil rights activists joined gays, many of them provocatively dressed, as well as heterosexuals who took part in the parade.
"Tel Aviv is the only city that accepts us," said Goby Haninu, an Israeli selling rainbow-coloured flags.
"We are not a mistake of nature, we are part of the world created by God," he said, adding he was "proud" of being gay.
An Arab Israeli gay man said "it is very difficult to be a homosexual in the Arab community," adding however he was "lucky" to have been accepted by his family.
Organisers said thousands of tourists from the United States and Europe took part in the event.
"This parade is very special because Tel Aviv is one of the only places in the Middle East where we can openly show our differences and, more important, be tolerant with each other," said African-American Rohan Ebanks.
Israel is widely seen as having liberal gay rights policies, despite the hostility shown towards homosexuals, particularly men, from the ultra-Orthodox Jewish community.
Israel repealed a ban on consensual same-sex sexual acts in 1988.