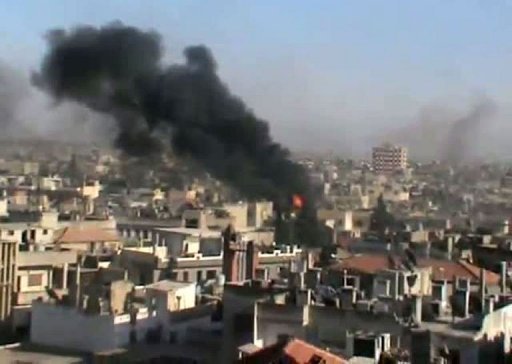 Last updated: 12 June, 2012
Syrian army uses children as "human shields"
Syria is now in a full-scale civil war, UN peacekeeping chief Herve Ladsous said on Tuesday, as UN observers reported they were fired on as they tried to enter a town feared to be the focus of a new massacre.
Secretary of State Hillary Clinton warned that Washington would find it hard to support the extension of the observer mission beyond next month if the government of President Bahar al-Assad's regime continued to show "contempt" for a UN-backed ceasefire that was supposed to go into effect from April 12.
Asked whether he believed Syria is in a civil war, Ladsous told reporters: "Yes I think we can say that. Clearly what is happening is that the government of Syria lost some large chunks of territory, several cities to the opposition, and wants to retake control.
"I think there is a massive increase in the level of violence, so massive indeed that in a way it indicates some change of nature," Ladsous added.
"Now we have confirmed reports of not only of the use of tanks and artillery but also attack helicopters.
"This is becoming large scale because the opposition also resists."
The under secretary general for peacekeeping operations is the most senior UN official to indicate he believes there is a civil war. UN leader Ban Ki-moon said last week that he believed it was "imminent".
The UN Supervision Mission in Syria had been trying to reach the northwestern town of Al-Haffe, a Sunni Muslim enclave in a region mainly populated by members of Assad's Alawite minority, where hundreds of civilians are reported trapped by an army siege of holed up rebel fighters.
The mission said it had received reports of "a large number of civilians, including women and children trapped inside the town and are trying to mediate their evacuation."
At least 120 people have been killed in the fighting in and around Al-Haffe over the past week, including 68 troops, 29 civilians and 23 rebel fighters, with hundreds wounded, according to the Britain-based Syrian Observatory for Human Rights.
The UN observers were forced to abandon their attempt to reach the town on Tuesday when an angry crowd in a nearby pro-government village threw rocks and metal bars at them, and unknown assailants then fired on them.
Ladsous said one military observer came close to being hit by a bullet. "We thought he was injured but in fact the bullet did not enter him but hit his boot.
"There were many impacts that hit the car, so it was deliberate," he added.
Separately, a UN official, speaking on condition of anonymity, said the crowd that surrounded the UN convoy was carrying government flags and that at least 20 bullets hit the car carrying the observers.
The United States has voiced concerns that the regime is planning to carry out new atrocities, after the massacre of 55 people last week in Al-Kubeir and at least 108 near Houla in late May.
"The United States joins joint special envoy Kofi Annan in expressing deep alarm by reports from inside Syria that the regime may be organising another massacre," State Department spokeswoman Victoria Nuland said.
The almost 300 observers in the UN mission face a "grave security risk" because incidents such as that in Al-Haffe have become more frequent, Ladsous said.
UNSMIS is "a peacekeeping force when there is definitely no peace to observe, that summarizes the situation," he said.
With the mission's mandate due to end on July 20, the United Nations and the UN Security Council are studying "various options" on its future, Ladsous said. A central element would be to see whether a political dialogue can be started.
— 'Increasingly dangerous' mission —
————————————–
Clinton said that renewing the mission would be difficult without progress in implementing the six-point peace plan brokered by UN-Arab League envoy Annan, above all the elusive ceasefire.
"If there is no discernible movement by then it would be very difficult to extend a mission that is increasingly dangerous for the observers on the ground," she told a think tank meeting in Washington.
Clinton also hit out at Moscow accusing it of worsening the bloodshed by sending attack helicopters to its Damascus ally.
"We are concerned about the latest information we have that there are attack helicopters on the way from Russia to Syria, which will escalate the conflict quite dramatically," she said.
"We have confronted the Russians about stopping their continued arms shipments to Syria. They have from time to time said we shouldn't worry, that everything they're shipping is unrelated to their actions internally. That's patently untrue."
The Syrian government hit back accusing Washington of siding with the rebels in their armed uprising which inflicted mounting losses on the security forces this month.
"The US administration is pushing forward with its flagrant interference in Syria's internal affairs and its backing of armed terrorist groups," a foreign ministry statement said.
"US statements distort the truth and what is happening on the ground while encouraging armed terrorist groups to carry out more massacres … not only in Al-Haffe but throughout the country," it added.
At least 36 people were killed in shelling and clashes across Syria on Tuesday, 24 of them civilians and 12 soldiers, the Observatory said.
More than 14,100 people have been killed in Syria since the revolt erupted in March 2011, according to the Observatory's figures.