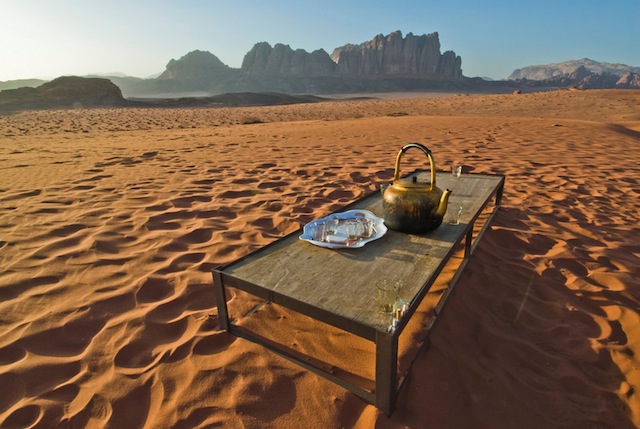 Last updated: 12 June, 2012
Wild Guanabana – taking adventure travel to new heights
Your Middle East talks to Omar Samra, the youngest Arab to climb Mount Everest and owner of an adventure travel company.

Building igloos in Lebanon, skydiving in Jordan, climbing Mount Kilimanjaro – not the typical vacationer's experience – but then again the travel company that offers these excursions, Wild Guanabana, is anything but typical. Wild Guanabana, an Egypt based adventure or "creative travel" company was named after an exotic fruit in Costa Rica. Its founder, Omar Samra, while traversing the jungles of Costa Rica, ran out of food. Luckily a local traveling with him found a spiky inedible looking fruit, surprisingly full of flavor, which saved them from starvation.
"The fruit was very exotic, different, and unexpected and that's how travel should be," said Omar. True to its name, his company embodies all of these things in its philosophy, design, and operation.
Passionate about traveling, Omar has undertaken many excursions around the world – most notably climbing Mount Everest – becoming the youngest Arab and first Egyptian to do so. He also took a memorable trip to Morocco with 7 Arabs, all from different countries, and climbed the highest mountain in the Middle East.
After his unique trips to over 60 countries, Omar realized that visitors often missed out on truly experiencing the culture and terrain of their host countries when they opted for traditional tourist packages.
"The actual trips being offered in the Middle East are designed for the masses and are very uncreative. They typically stick people in a bus and go through a checklist. Many times the experience is more about the hotel than about exploring things on the ground. I thought it needs to change and it's a big opportunity," said Omar.
To capitalize on this opportunity, he started Wild Guanabana with just $25,000 of his own savings. Unfortunately, his timing could not have been worse as it was in 2009 at the height of the financial crisis – a time when discretionary spending on travel and leisure was on the decline globally. Though it was difficult, he eventually managed to secure funding from an investment company allowing Wild Guanabana to create a presence in Dubai as well.
Wild Guanabana has an interesting business model as well as an interesting name. It is a tour operator that works with partner travel agencies to provide the services that they need. The company is very particular about the partners it engages in the countries where they offer their excursions. It makes sure the people on the ground share the same travel philosophy from a creativity and sustainability standpoint.
"We are involved in training their guys so that the product is delivered in the right way. There is a high degree of customization. We are buying the services they provide but we are dictating in terms of the design of the trip," said Omar.
Earlier this year they organized a long weekend trip called "Lebanon goes Eskimo." Most people flew into Beirut and then went to the mountains where they spent the night in a family-owned lodge to gain an authentic experience. Breakfast was served in a village with fresh bread and delicious local ingredients. After the meal, participants followed the guides into some breathtaking areas in Lebanon's mountains. Towards evening they set up camp under the guidance of the tour leaders who gave them a lesson on building igloos. The next day the visitors returned to Beirut after having the opportunity to explore more of the mountainous terrain and some opted to stay for a few extra days to take full advantage of the vibrant city.
Jordan, another country with diverse terrain, is also among the creative travel destinations offered by Wild Guanabana. All excursions take visitors to the spectacular ancient city of Petra but the company goes one step further in also allowing people to experience the terrain around the city by offering activities such as skydiving, hiking, canyoning, with one excursion even allowing visitors to experience Bedouin style camping under the stars and indulge in "zarb" – a special Bedouin meal cooked in an "underground" oven.
When the company plans such trips it takes great care to be as environmentally friendly as possible. Wild Guanabana became the first carbon neutral company in the Middle East in September 2010. Visitors usually stay in small lodges which not only provide an authentic experience but also have a much lower carbon impact than large hotel chains. The company purchases carbon credits to offset any emissions produced on its trip.
"Worldwide there's a global trend of businesses becoming more ethical, more sustainable on an environmental level but also on a social level in terms of being a positive influence on the host communities in which we can travel. This is gaining traction and is becoming a strong trend in the travel industry which was absent in our part of the world before," said Omar.
It seems that by design the trips benefit the host countries. The emphasis on emission reduction ensures that environmental damage is minimal, the use of host partners and accommodation allows locals to benefit from the excursions, and most importantly the creativity of the excursions allows a broader scope for tourism within the host communities.
Though adventure or creative travel may seem like a niche market in the Middle East Omar believes it is growing.
"Creative travel. It's a smaller market in our region compared to traditional travel but that's changing fast and the bet we're making is that eventually the region will follow suit in terms of being compared to Asia, US, and Europe."
Even within Egypt, where the travel industry is well established, Omar sees great potential.
"If you look at our own resources whether it is desert or sea tourism we have as many natural resources to play with as Spain but they have quadruple the number of tourists in a year. We need diversification in tourism. We cater right now to one type of tourist which is mass and very package resort vacations but there is so much stuff that can be done to focus on certain elements which can definitely benefit Egypt."
With the diversity of sites, cultures, and terrain in the Middle East, creative travel is a huge opportunity from a business perspective, and as the global economy begins to recover, more and more people may opt to spend their discretionary income on less traditional tourism experiences. This may not only help to grow the tourism industry in the Middle East but could offer outsiders a completely different perspective of some fascinating countries in the region.