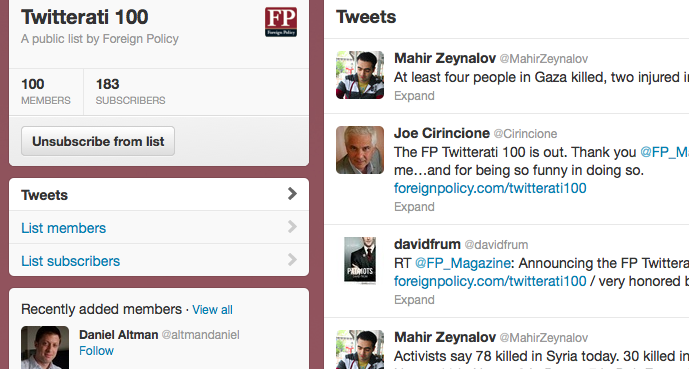 Last updated: 18 June, 2012
Foreign Policy Magazine names the biggest Tweeters in the Middle East
The American magazine Foreign Policy on Monday announced their Twitterati 100 list, highlighting the go-to people in the "Twitterverse".
It hardly comes as a surprise that the Middle East section of the list shows many names; social media played an important role in most of the Arab uprisings and its popularity is growing. The number of Twitter users in the Middle East was estimated at roughly 6,5 million in 2011, according to The Next Web, and it seems the social media giant is becoming increasingly popular. In 2010, Saudi Arabia saw a 240% increase in Twitter users, and other countries have followed the trend.
There are about 1,300,000 active Twitter users in Arab countries, writes Wamda. In a recent report from Khaled ElAhmad (@Shusmo), we can see that the most popular topic in February and March 2012 in the Arab world was Bahrain, followed by Syria and Egypt.
Below is a list of names from Foreign Policy's Twitterati 100:
Issandr El Amrani (@arabist)– Writer and analyst based in Cairo who runs the popular blog Arabist.net.
Borzou Daraghi (@borzou) – Middle East and North Africa correspondent for the Financial Times. According to Foreign Policy "a great aggregator of regional news".
Jeffrey Goldberg (@Goldberg3000) – Correspondent for The Atlantic, based in Washington.
Golnaz Esfandiari (@GEsfandiari) – Focused on Iran and blogging for Radio Free Europe/Radio Liberty.
Hussein Ibish (@Ibishblog) – Blogger and senior research fellow for the American Task Force on Palestine.
Robin Mills (@robinenergy) – Energy consultant and columnist based out of Dubai.
Eman Al Nafjan (@Saudiwoman) – Very popular female Saudi blogger.
Ahmed Al Omran (@ahmed) – Saudi blogger and NPR social media producer.
Prashant Rao (@prashantrao) – Baghdad bureau chief with AFP. "One of the few good feeds on Iraq," writes Foreign Policy.
Sultan Al Qassemi (@SultanAlQassemi) – With more than 120,000 followers, this prominent Emirati columnist and investor is a prominent force in the region, but not just on Twitter.
Barak Ravid (@BarakRavid) – Diplomatic correspondent for Haaretz.
Mahmoud Salem (@Sandmonkey) – This is what Foreign Policy writes in their analysis of Sandmonkey: "Foul-mouthed Egyptian revolutionary blogger and son of a former ruling-party parliamentarian, based in Cairo."
Liz Sly (@LizSly) – Correspondent for the Washington Post, based in Beirut.
Brian Whitaker (@Brian_Whit) – Middle East editor for the Guardian.
Mahir Zeynalov (@MahirZeynalov) – Journalist for Today's Zaman, based in Istanbul.
For the full list, visit Foreign Policy.