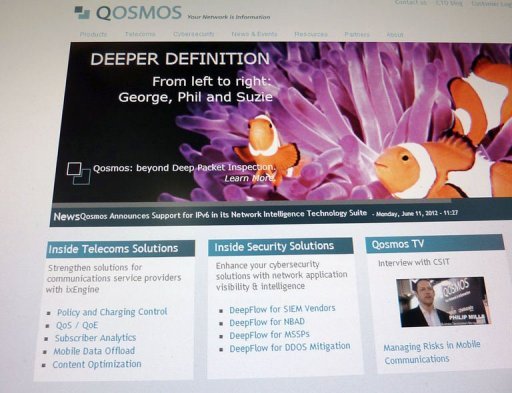 Last updated: 25 July, 2012
French tech firm Qosmos sued and accused of aiding Syrian regime
Human rights groups filed a complaint in Paris Wednesday to urge the judiciary to probe the alleged involvement of French firm Qosmos in supplying Syria's regime with surveillance equipment.
While France condemns President Bashar Al-Assad's violent crackdown, it is vital that full information be released "on the involvement of French companies in supplying surveillance equipment to the Syrian regime," said Patrick Baudouin of the International Federation for Human Rights (FIDH).
The FIDH and the Human Rights League (LDH) said in a statement that they had jointly filed the complaint with the Paris prosecutor.
"Western companies must know that they cannot sell this type of equipment to authoritarian regimes without being held accountable," said Michel Tubiana of the LDH.
Qosmos says on its website that its core expertise is providing "technology that creates an information layer in communications networks, enabling detailed, real-time visibility into all IP (Internet Protocol) traffic as it crosses networks".
French authorities in May opened a probe into the activities of Amesys, another French technology firm, after the FIDH and LDH filed a complaint accusing it of providing surveillance equipment to Libya's now deceased strongman Moamer Kadhafi.
The equipment, the groups said, was aimed at targeting "opponents, arresting them and putting them in prison, where they were tortured".
Amesys said after the probe was announced that it "very strongly denies the accusation of 'complicity in torture' and hopes to quickly be able to inform the investigating magistrate of the reality of the case".
The company had admitted in September that it supplied Kadhafi's regime with "analysis equipment" but noted the deal was made only after Libya had improved ties with the West and that it did not operate any surveillance.