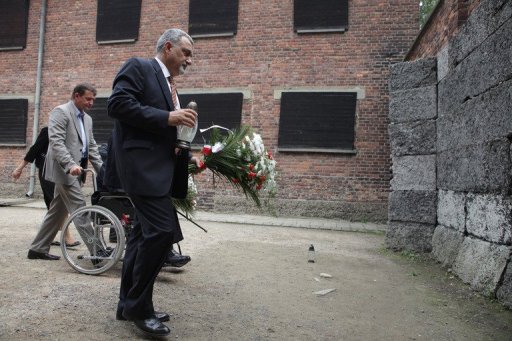 Last updated: 27 July, 2012
Palestinian official visits Auschwitz death camp
A high-ranking Palestinian official visited the Auschwitz former Nazi death camp on Friday, the first visit of its kind to the site that symbolises the Holocaust.
Ziad al-Bandak, advisor for Christian relations to Palestinian president Mahmud Abbas, laid a bouquet of red and white flowers at the camp's infamous Wall of Death near block 11 where the Nazis executed thousands of Jews.
After passing through the camp's wrought iron Arbacht Macht Frei (Work Makes You Free) gate, Bandak visited the crematoria and gas chambers where Jews from across Europe were gassed to death by the Nazis.
He also visited the museum where the personal effects of the victims are on display, including hair, children's clothes, suit cases, shoes and Jewish religious robes.
Auschwitz-Birkenau is the most notorious, and enduring, symbol of the Holocaust, Nazi Germany's wartime campaign of genocide against Europe's Jews.
A year after invading Poland in 1939, the Nazis opened what was to become a vast complex on the edge of the southern town of Oswiecim — Auschwitz in German. They later expanded it to the nearby village of Brzezinka, or Birkenau.
Of the six million Jews killed in the Holocaust, one million were murdered at the site, mostly in its gas chambers, along with tens of thousands of others including Poles, Roma and Soviet prisoners of war.
Soviet troops arrived at the camp on January 27, 1945, and the date is now marked as an international Holocaust memorial day.