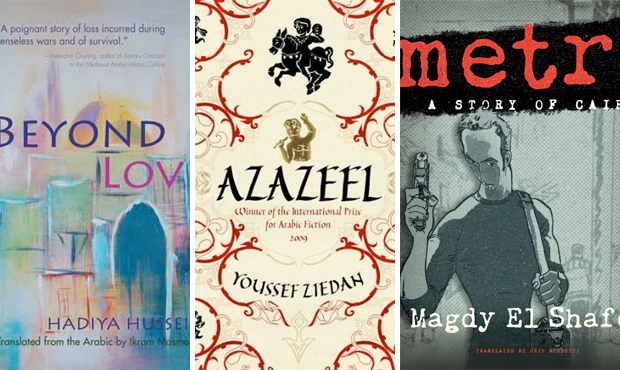 Last updated: 30 July, 2012
Summer reading – 3 new Arabic novels
Summer is typically the time for lighter, more accessible novels. There are a number of wonderful Arabic books out in English translation this year, but these three new releases combine both accessibility – they could be read on a plane or at the beach – and readerly satisfaction.
El Shafee's censored graphic novel is not available in Egypt. But, as of June, it's available in English translation from Metropolitan Books.
"Metro" – published and censored in Egypt in early 2008 – is the story of Shehab, a young software designer struggling to feel human in a corrupt environment. As the book opens, he decides to rob a bank to solve his problems. After all, he tells his friend Mustafa, they needn't fear: "In this country, jail is for the poor."
The bank robbery goes off, although things still don't turn out well for Shehab. The English-language translation of "Metro" is a fun, quick read, thanks to translator Chip Rossetti. But it's also a serious look at Egypt's problems with sexual harassment, corruption, police violence, and unsafe food.
Jonathan Wright's translation of Azazeel was published by Atlantic Books this April.
This briskly paced historical novel – which won the International Prize for Arabic Fiction in 2008 – is an enjoyable tale of sex, history, and doubt. The novel has stirred much controversy in Egypt, because of its portrayal of the early Christian church, but for a non-Egyptian reader it's just a good read about a character in inner turmoil (Hypa) trying to separate the threads of religion, religious institution, and intolerance.
Hussein's Beyond Love – a story about Iraqis in Jordan awaiting resettlement – is not a light-hearted read. But Ikram Masmoudi's lovely translation and the author's deep feeling for her characters makes a smooth, fast, enjoyable read in English, even when it traverses difficult emotional terrain.
The story begins in the Al Amal (Hope) underwear factory, where young women fight each other and the deprivations of 1980s Iraq. It ends as the main character has decided to relocate to the United States. In between, there are a number of gentle love stories – or stories "beyond love" – and indeed, the whole book is surprising for its gentle touch even during times of violence.