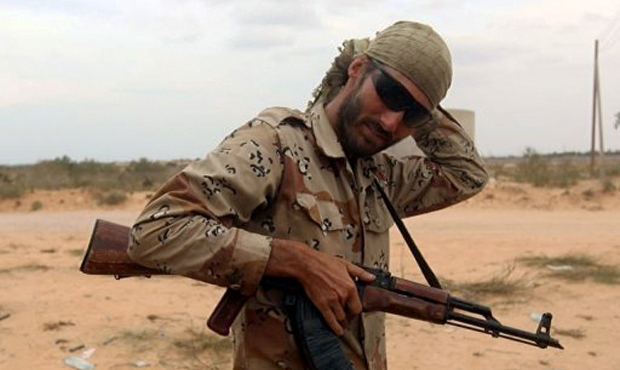 Last updated: 6 August, 2012
American freedom fighter Matthew VanDyke turns his eyes from Libya to Syria
Matthew VanDyke became famous after joining the Libyan uprising against Gaddafi. His next destination is Syria, where he will make a documentary to muster support for international action against the Assad regime.
The life of Matthew VanDyke is like something out of a movie. The journey that brought him to a war in the Middle East and one of Gaddafi's prison cells started in university where he chose to focus on the Middle East. After completing a Master's degree at Georgetown University's School of Foreign Service, he set out on a three years long motorcycle journey from Morocco through Libya to Iraq to gain some on the ground experience in the region.
"If you're on a motorcycle you aren't separated from people by glass, you aren't boxed in like in a car. And people open up to you when they see an American driving into town alone on a motorcycle. They're curious, often astonished, and it breaks the ice very quickly," explains VanDyke.
"Among the most significant impressions left on me from this experience is that freedom and liberty are universal desires, and that the region was a powder keg ready to explode. I also saw how life under authoritarian regimes is not only horrible in the ways that we know, but that it also leads to people taking less responsibility for their own lives, and what a widespread, degrading effect this can have on entire societies."
VanDyke spent time in Libya, which was then governed by dictator Muammar Gaddafi. When the people's calls for democracy started in the spring of 2011, he received messages from his friends in the country that the situation was spinning out of control and the rebels feared that no outside help would come since NATO had not yet initiated the international air campaign. He felt a need to assist his friends and went to Libya to join the rebels as a freedom fighter.
However, shortly after arriving, VanDyke was captured by Gaddafi's troops during a reconnaissance mission and sent to prison where he spent almost six months in solitary confinement. After escaping the Abu Salim prison during a massive prison break, he could have gone home to the US but decided to stay and fight with the rebels until the Gaddafi regime had fallen.
Having achieved that mission, VanDyke is now looking to continue aiding the Arab revolutions. His next endeavor is to make a documentary about the Syrian uprising.
"In September I will go to Syria with another well-known fighter from the Libyan revolution, Masood Bwisir, and make a film in support of the Syrian revolution. Masood will be singing and playing guitar on the front lines to improve rebel morale, just as he did during the Libyan revolution. I will be interacting with the Syrian rebels as an American veteran of the Libyan revolution. It should, combined with the stories of some interesting Syrian rebels, make for a very compelling film to support the revolution."
VanDyke is running a fundraising campaign at Kickstarter, a crowdfunding website, to give the public a chance to be part of the Arab Spring by contributing money to the film. The plan is to release it on the internet where it will be accessible for free in order to reach the widest possible audience. The aim is to increase support for the Syrian rebels and eventually inspire people in other Arab countries to rise against oppressive regimes.
"The rebels do not have enough weapons and ammunition for the men they already have. It is indisputable that they need all the help they can get. The rebels simply cannot win without far more men, unless there is an international air campaign as occurred in Libya," says VanDyke, who sees many differences between the uprisings in Syria and Libya. For example, the Syrian rebels are less organized, both politically and militarily, they are vastly outnumbered by a far better military than Gaddafi had, and they do not control major cities.
"At this time I am using my reputation and platform to increase international support for action in Syria. When there is more organization and weapons, probably in a few months from now, it will be time for me to fight and I will join other veterans of the Libyan revolution in Syria who are lending their acquired expertise to this war. We have done this before in Libya, we know how to do it, and many of us will do whatever we can to ensure that Assad will soon join Gaddafi."