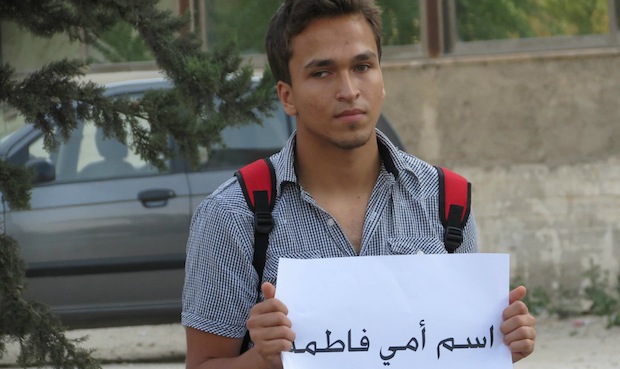 Last updated: 8 August, 2012
A more assertive Jordanian youth says "no honor in crime"
On a bright afternoon in Amman, Jordan, a demonstration has caught peoples' attention. Not a typical "Arab Spring" style protest, but a human chain of over 200 activists quietly holding signs. "My honor is between my ears," reads one sign, held by a girl in a pink beanie and aviator sunglasses.
Western spectators might miss the reference printed boldly on the young woman's sign, unaware that it is meant to provoke. It is a play on the saying "a woman's honor is between her legs", an innuendo that is potentially scandalous in a society of numerous cultural taboos. Displaying such slogans is a testament to the fierce bravery of the movement's supporters, and the newfound daring of the Jordanian youth.
Awareness campaigns run by four different activist groups have been independently organized for some time now. The first of the groups is called "No Honor In Crime", a campaign that attempts to drag honor crimes out from under the carpet where they have been swept and into public discourse. The second is an initiative called "My Mother is Jordanian", a group targeted at changing a law that prohibits a Jordanian woman who marries a foreigner from giving her children citizenship or social services. "Mush Shatara" is the third campaign, which aims to decrease incidents of sexual harassment on the streets of Jordan. "The Crime of 308" is the fourth and final group of citizen volunteers trying to repeal law 308 which allows a rapist to marry his victim and have all charges automatically dropped by the state. The human chain was orchestrated to mark the historic collaboration between the four rights campaigns working towards gender equality in Jordan.
Members of the chain come from a wide array of backgrounds; there are men and women, covered and uncovered, young and old, and (it is rumored) even gay and straight. Participants were hand-selected by eight coordinators.
"Quality was more important than quantity," demonstration coordinator Rozan Khalifeh noted. "We needed every demonstrator to be able to advocate for our movement if approached by the media, and we knew that we would only be as strong as our weakest link."
The coordinators approved the slogans in a horizontal planning session the previous week. Some slogans were cheeky. "I also do the dishes," wrote one man. Others were personal. "My mother's name is Fatimah," wrote a boy, to counter an attitude that considers it 'rude' for others to know one's mother's name. Still others were striking, like one that read "you've slaughtered us with your 'honor'". All carried a silent strength that did not go unnoticed.
"The legal situation in Jordan is extremely shameful, so people avoid the issue at all costs. Even when we try to coordinate with universities to run workshops with their students, the people we speak to are too embarrassed to have these issues associated with their institutions," said Khalifeh.
Another obstacle brought on by a conservative group mentality is lack of statistical information.
"We had to devise our own research team to study honor crimes. We spoke to several lawyers, psychologists, and researchers who generously donated their time to this study. It was by far the most comprehensive study conducted on these issues to date."
The findings shed light on a disturbing reality. Specifically, the research uncovered a legal loophole that allows families of the people who commit honor crimes (who are usually the victim's family as well) to opt out of pressing charges on the murderers. This can shorten the offender's sentence by half. Every once in a while when jails are too full, a Royal Pardon is issued and honor criminals are among those released. The most recent pardon was last year on the anniversary of the King's ascension to the throne.
"By compiling the data from interviews with people who had committed honor crimes, we found that this legal leniency was the one largest factor that contributed to the crimes being committed," said Khalifeh.
These findings have spurred "No Honor In Crime" to push the senate for reforms that would force perpetrators of honor crimes to be prosecuted regardless.
"We think that if we can get this new legislation in place, rates of honor crimes will reduce drastically. A family will not want to lose both a daughter and a son," remarks Khalifeh.
The demonstration received mixed feedback. While some bystanders came and stood with the protesters in solidarity, others harassed them on Facebook. Radio announcer "Mohammad al Wakeel" ridiculed the protest on his page.
"While not all feedback was positive, we succeeded in getting people to address these important issues, which is victory enough for us," Khalifeh concluded.